In today's trending, "Nut Brother" makes brick out of Beijing's smog particles, security guard gains fame by looking like Jack Ma, and Dama buys 13kg of gold bars as investment.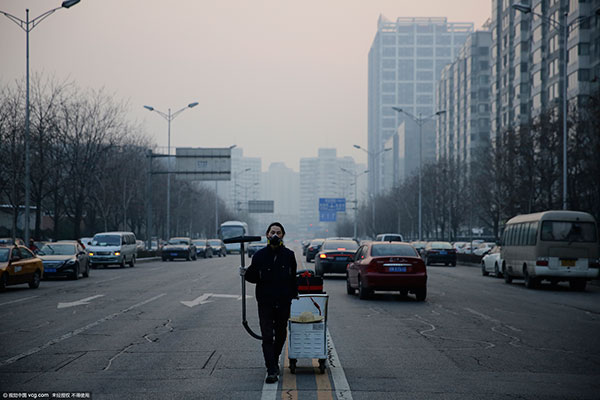 "Nut Brother" walks with his vacuum cleaner on a Beijing street. [Photo/CFP]
Artist makes Beijing smog particles into brick
An artist who calls himself "Nut Brother" has collected the particulate matter in Beijing air for 100 consecutive days for his project, "Dust Plan", from July 24 to Nov 29, reported cfp.cn on Tuesday.
He uses an industrial vacuum cleaner that sucks up any particulate matter with a diameter over 0.2 microns, walking around Beijing and vacuuming the air.
The vacuum cleaner has 1,000 watts maximum power with an air flow of 234 cubic meters per hour. The machine can be used for four days on one charge, and the amount of air sucked in is equivalent to how much 62 people breathe per day.
He baked all the particulate matter he collected into a piece of brick in a brick factory on Nov 30.
The idea for his project has been brewing since 2013 when Beijing suffered severe smog which exceeded the standard PM 2.5 index, which measures particulate matter with a diameter less than 2.5 microns.
The final part of his project will see him putting the brick back into building materials, to reflect how high speed development and economic actions affect human life.
In his introduction to "Dust Plan", Nut Brother writes, "Our city is becoming a city crowded by cars, surrounded by the chemical engineering industry...We make more dust when we ask for more resources. We will finally turn into dust when all resources on the earth are used up."
Nut Brother, born in 1981 in Hubei province, has focused on many issues such as the decreasing number of bookstores as public spaces and the usage rate of modern buildings in urban cities. He has worked on many art projects after quitting his job in an advertising agency.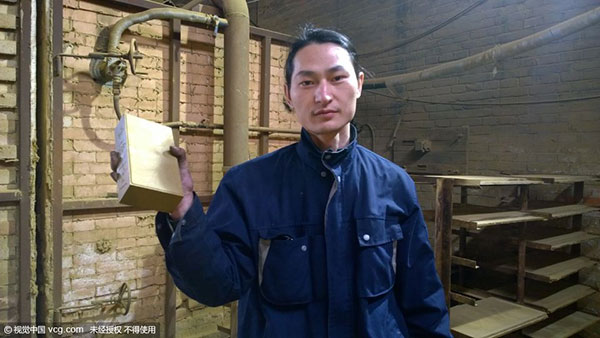 "Nut brother" shows the brick made of smog particles in Beijing. [Photo/CFP]
In our next story, a security guard who looks like Jack Ma becomes famous.