Year's most severe pollution forced schools to close, caused traffic chaos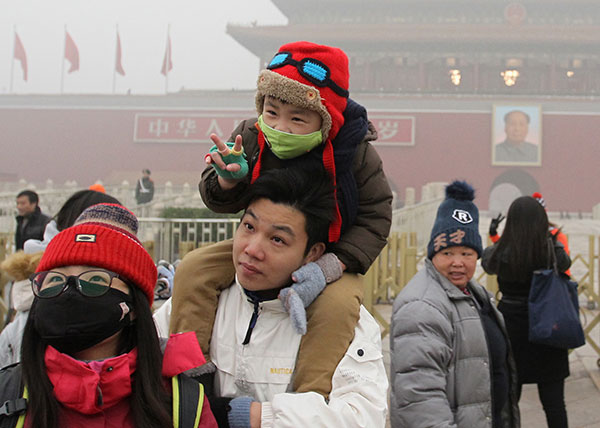 Tourists visit Tian'anmen Square on Tuesday as the city experiences its most severe smog this year. ZHANG WEI/CHINA DAILY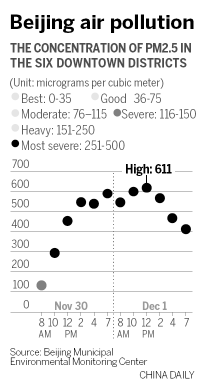 Beijing has been suffering this year's most severe smog since Friday, with pollution readings off the charts that have forced schools to close and caused traffic chaos.
However, with a westerly wind due to reach the capital at midnight on Tuesday, good air quality was being forecast for Wednesday, said Zhang Dawei, director of the Beijing Municipal Environmental Monitoring Center.
He said the air quality is expected to remain good from Wednesday to Friday.
The capital's orange pollution alert was due to be lifted from midnight on Tuesday.
Beijing had issued its first orange pollution alert of the year on Sunday, restricting production at more than 2,100 companies and suspending all work on construction sites that could generate dust.
Thick, choking smog has enveloped the capital for five days, with the air quality index in many monitoring stations soaring to 500, the highest possible reading. The municipal government encourages people to stay indoors when the reading is higher than 300.
The concentration of PM2.5-particulate matter with a diameter less than 2.5 microns that poses health risks-was 689 at 5 pm on Tuesday in some southern Beijing monitoring stations, down from the peak reading of 945 on Monday.
Students at some kindergartens, and primary and middle schools had their classes canceled so they could stay indoors.
The capital has also seen more road accidents due to the poor visibility, and traffic congestion was bad around the city through most of Monday. Many expressways linking Beijing and neighboring cities in Hebei province were closed for hours.