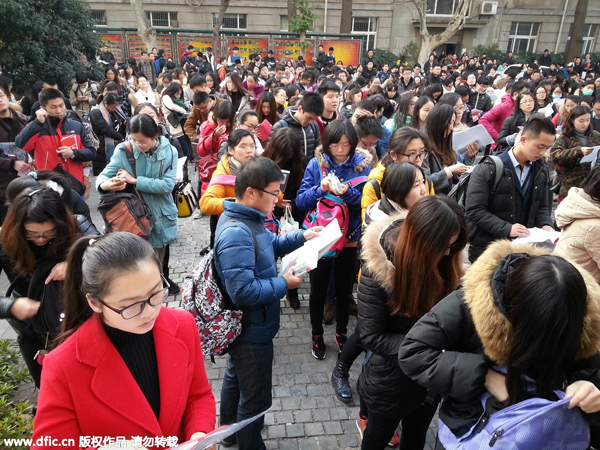 Candidates wait outside the exam hall in Nanjing Forestry University, Jiangsu province, Nov 29. The vacancies hit record high while the average number of applicants vying for each position is the lowest in the past five years. This year will witness the strictest exam in history as those caught cheating face up to seven years in prison. [Photo/IC]
Only about 930,000 out of 1.4 million qualified candidates attended national civil service exam on Sunday, known as one of the most competitive tests across the country, reported chinanews.com.
More than 460,000 applicants choose no show for the exam, which means the possibility of passing the exam has increased as one out of 33 are expected to land a government job, compared to 64:1 last year.
In recent years it has become normal that many applicants who sign up do not turn up for the exam.
About 400,000 applicants did not turn upin 2012 and the all-time high has been over 500,000.
Among all the applicants, considerable numbers only see the exam as an option, instead of the only career path.
"Civil service is not my top choice," said a senior college student at an exam site in Beijing. "I haven't prepared for too long but spent couple of days to know the question types. I just wish there's one more option for me since I want to work for a company the most."
Many candidates who are expected to graduate soon mentioned heavy work load, relatively low pay and pressure from the country's anti-corruption and frugality campaigns for civil service losing its appeal.
Some attendees don't even prepare for the exam.
The popularity of government posts has dropped in recent years, though the civil service jobs are still favored by Chinese as they offer a relatively stable career.
With more than 27,800 job openings this year, some positions draw thousands of applicants, while others attract few.