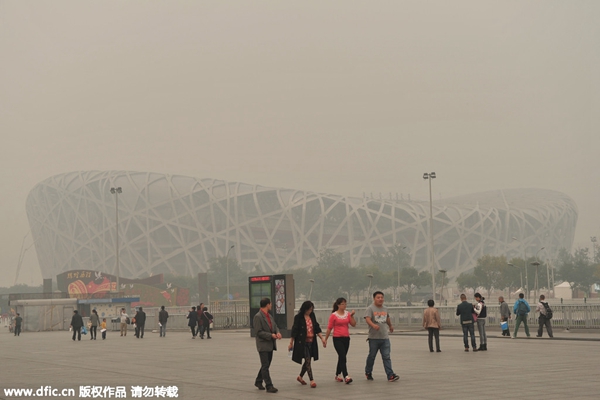 The "Bird's Nest" National Stadium can hardly be seen in severe smog in Beijing on Tuesday. [Photo/IC]
Days of severe smog have forced schools to halt outdoor classes or even close down and most expressways have been temporarily sealed off in Beijing, while environmental watchdogs continue to pinpoint reasons for the smog.
Beijing's top education authority has ordered all kindergartens, primary, middle and high schools to halt outdoor classes and activities, and allowed schools to flexibly arrange their academic schedule amid severe smog, according to Legal Daily.
On Tuesday, Beijing No 2 Experimental Primary School suspended all classes and allowed students to teach themselves at home, said the report.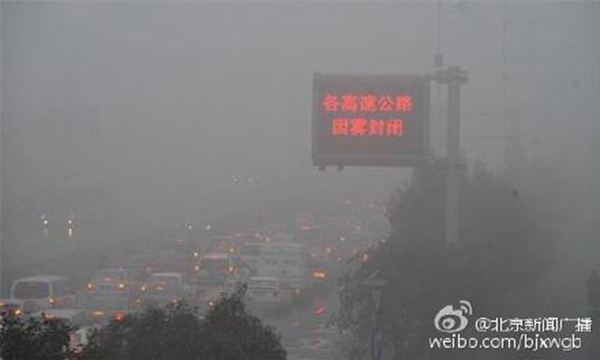 Vehicles move slowly on a road and an electric screen reads that expressways in and out of Beijing are sealed off temporarily due to severe smog. [Photo from Weibo account of Beijing News Radio]
As smog brings visibility down to several hundred meters in some parts of Beijing, most expressways in and out of the Chinese capital were sealed off, according to the Beijing News. A major long-distance coach station at Bawangfen in Beijing has suspended all inter-province long distance coaches.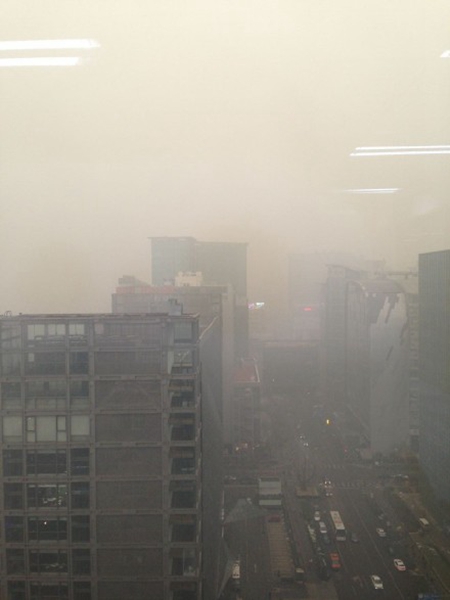 Photo shows the visibility is as low as 100 meters in Zhongguancun, a nationally renowned high-tech hub near Beijing's North Fourth Ring Road, on Tuesday morning. [Photo from Weibo]
Sina News, a popular news portal in China, said in its live report that the visibility of Zhongguancun area in Beijing where it is headquartered was as low as 100 meters on Tuesday morning.