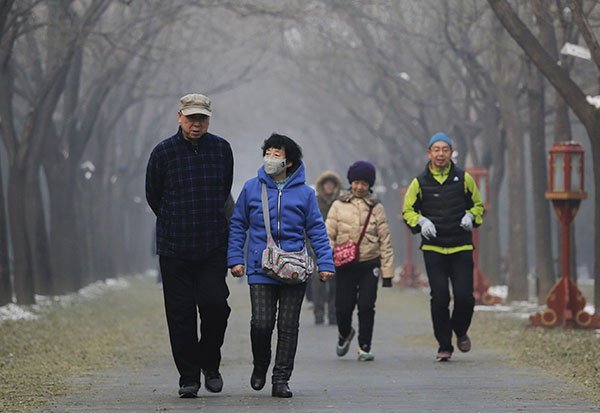 People were not deterred from walking in a park on a heavily polluted morning in Beijing on Sunday. DAMIR SAGOLJ/REUTERS
Heavy smog is forecast to remain at severe pollution levels across northern China, including Beijing, Tianjin and Hebei province, for another two days, the Ministry of Environmental Protection said on Sunday.
The capital issued its first orange alert of 2015 on Sunday, the second-highest response to smog, to restrict pollutant emissions. Hebei province also announced an orange alert.
Beijing exposed on Sunday afternoon six companies and construction sites which failed to suspend their production as required.
Residents in the northern regions have seen a deterioration in air quality since Friday. The readings of PM2.5-particulate matter with a diameter less than 2.5 microns that poses health risks-increased by 119 percent from Thursday and entered the most hazardous level, the ministry said.
By Saturday, heavy smog covered 23 cities in the region, covering an area of around 530,000 square kilometers. The ministry expects it will remain at hazardous levels in 17 cities until midweek.
The southern suburbs of Beijing had a PM2.5 reading of 326 at 2 pm on Sunday, a level of high health risk.
To alleviate the pollution, the capital upgraded its yellow alert to orange on Sunday, closing some polluting factories, banning heavy trucks from the roads and suspending work at some construction sites.
China has a four-tier color-coded air pollution warning system, with red representing the highest response level, followed by orange, yellow and blue. Until now, no red alert has been issued despite the persistent heavy smog in Beijing in 2013.
Wang Bin, head of the emergency response department of the Beijing Environmental Protection Bureau, said the air pollution at the most severe level did not last for three days, so the government would not issue the red alert.
The windless weather, with high humidity, is a major reason the smog is lasting so long. Also, the coal-fired boilers being used in the heating season are pumping more pollutants into the air and causing severe air pollution, the ministry said.
Zou Shoumin, head of the environment inspection bureau at the ministry, said it sent four teams to supervise the implementation of pollutants restrictions to Beijing, Tianjin, Shijiazhuang and Langfang on Friday.