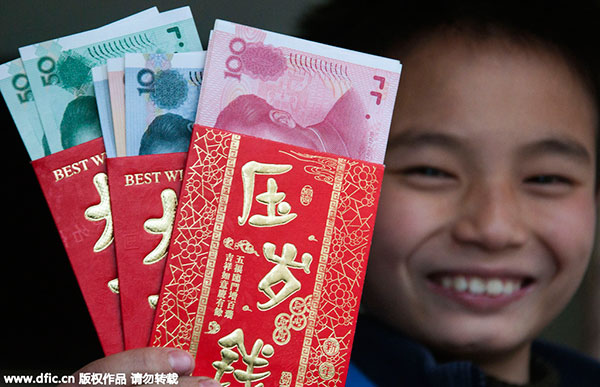 A boy displays his hongbao (red envelopes) filled with "lucky money" in Shaoyang city, Central China's Hunan province, Feb 5, 2015.[Photo/IC]
Shanghai, the financial center of China, sure has raised some money-savvy children.
Ninety-two percent of Shanghai primary school students who took a recent test of their money smarts showed an understanding of financial management, and some even knew a thing or two about stocks and debts.
The FQ, or Financial Quotient, test was conducted on Wednesday at three primary schools. It was designed to measure the students' ability to handle money, their understanding of spending and saving, and their knowledge of family finances and investment.
One 8-year-old could identify six ways to make money - including investing in the stock and real estate markets, selling old toys and getting good grades, said Xu Ting, head of the FQ Lab at Ant Fortune, the mobile financing platform of Alibaba Group Holding.
The students scored 73 percent on average, surpassing the organizer's assumptions about what children might be expected to understand about money management, Xu said. Twenty-six percent of the 200 test takers, who were ages 8 to 11, scored over 80 points, and only 8 percent notched under 60.
Asked about managing a New Year's money gift, 61 percent of the students said they would deposit the money in the bank, while 31 percent said they would give it to their parents for investment. One student said he would lend the money to relatives to buy property - and charge interest.
Not all of the students who were tested had received financial education, although it is studied at the primary school affiliated with the University of Shanghai for Science and Technology. Money education there is integrated into classes to teach students responsibility, teacher Xue Lei said.
"It's mostly to help the students to manage their pocket money," Xue said.
Lao Kaisheng, a professor of education at Capital Normal University, shrugged off the test as more commercial than scientific. But it's clear that modern parents are conscious of money management and want their children to spend-and save-wisely.