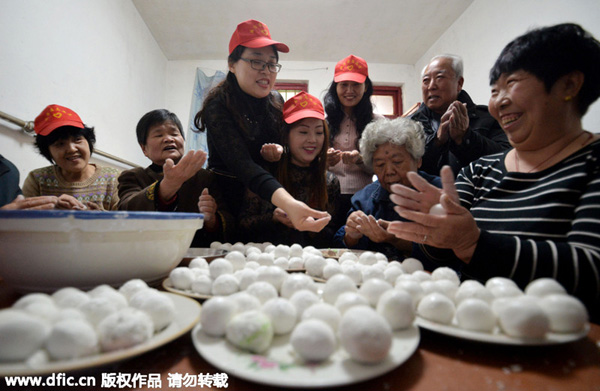 Volunteers and empty-nest seniors make Yuan Xiao, a typical food for Lantern Festival, in Handan, Hebei province, March 3, 2015. [Photo/IC]
By 2020, 90 percent of Beijing's seniors are expected to remain at home and be cared for by their families, according to a development plan on elder care services released by the city's civil affairs authority on Wednesday.
The number of permanent residents aged 60 and older is predicted to reach 4 million by 2020, compared to 3.2 million at the end of last year, the Beijing Civil Affairs Bureau said.
The other 10 percent of seniors, or about 400,000 people, will be cared for by communities or nursing homes, the plan said. Nursing homes in Beijing will receive mostly physically or mentally disabled residents.
The city will encourage the development of elder care facilities and the number of beds at nursing homes is expected to increase by about 50 percent from the current level to 160,000 by 2020, the plan said.
Beijing faces a severe shortage of facilities for nursing and care of the infirm elderly, a problem worsened by the city's quickly aging population, the bureau said. Only 3.4 beds are available for every 100 permanent residents aged 60 or above in Beijing at the end of last year.
At Beijing No 1 Social Welfare House, a popular nursing home in Beijing, the waiting list for an empty bed stretches decades into the future due to a lack of beds and the number of applicants, Xinhua News Agency reported.
Nursing home problems most severe for middle-income seniors
Less than 20 percent of nursing homes in China's major cities are profitable, and homes for middle-income seniors fall far short of what is needed, according to a report released on Thursday, July 16 by the China Research Center on Aging.
The report, which looked at the development of nursing homes, was based on information collected last year from civil affairs authorities and questionnaires submitted by 257 nursing homes in 12 major cities, including Tianjin and Chongqing.