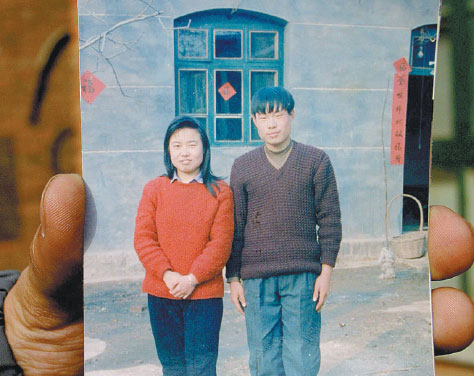 A family member displays a 1993 photo of Nie Shubin with his older sister. Nie was executed in 1995, having been convicted of raping and murdering a 38-year-old woman. Xiao Chen / for China Daily
In 1995, Nie Shubin was executed after being convicted of a crime his family says he did not commit. Now, changes to the legal system could signal the end of a two-decade-long battle for a posthumous pardon, report Luo Wangshu in Shijiazhuang, and Cao Yin in Beijing.
After spending 20 years fighting to clear her dead son's name, Zhang Huanzhi is hopeful that a court will soon quash his conviction and grant a posthumous pardon.
Nie Shubin was executed in 1995 at age 21, having been convicted of raping and murdering a 38-year-old woman in Shijiazhuang, capital of Hebei province, the previous year. The woman cannot be named for legal reasons.
Ten years later, a man called Wang Shujin was arrested on unrelated charges of rape and murder, and while in detention, the then-38-year-old confessed that he had committed the crimes that cost Nie his life. Wang was later convicted of the crimes that had prompted his arrest. He was sentenced to death, but legal arguments related to his "confession" have delayed his execution.
Zhu Aimin, Wang's lawyer, said that when he last saw his client in May, Wang was in good physical condition and was sanguine about the future. "Wang told me that he was guilty of his crimes (including those for which Nie was executed) and was willing to take responsibility for his actions," he said.
Some Internet commentators have accused Wang of cynically confessing to the woman's murder to muddy the waters and prolong the legal arguments. In response, Zhu said Wang is poorly educated and has no Internet access at the detention house, "so the online comments that his confession is aimed at delaying his execution are wrong, I think".
Since Wang's confession, Zhang has constantly petitioned the courts to exonerate Nie. "I have nothing left in my life. My only desire is to prove my son's innocence," the 72-year-old said.
That may happen on Dec 15, when a decision will be made on whether the case will be retried. A ruling should have been made on Sept 16, but the Shandong High People's Court announced that the complexity of the case meant the decision would be delayed for three months.
It was the second time the ruling had been postponed, but Li Shuting, Zhang's lawyer, said a number of factors, including government-sponsored judicial reforms and the high level of legal and media attention, mean "the case won't go cold" this time.
Cheng Lei, an associate professor of law at Renmin University of China, has recently conducted research at the court in Shandong. "The judges mentioned this high-profile case without any prompting. They told me they have been ordered to review every piece of evidence. They assured me that they cannot and will not miss any detail, no matter how small," he said. "The probability that the case will be retried is, I think, high."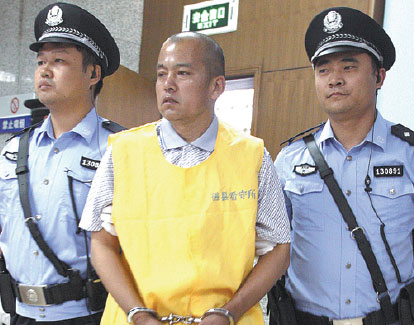 Wang Shujin at his trial in July 2013. Wang, who was charged with rape and murder, confessed he had also committed the crimes that cost Nie Shubin his life. Ding Lixin / Xinhua