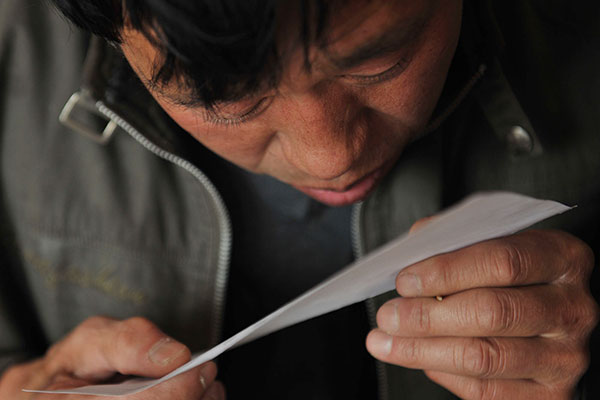 Wu Zhicheng, a Beijing resident who has no hukou, checks a paper that may help him reinstate his household registration in January. Wu said he lost his hukou 43 years ago because of a mistake that occurred when the local police relocated it to his employer. Wu Jiang / for China Daily
China is considering extending hukou, or household registration, to 13 million unregistered citizens, according to the Ministry of Public Security.
Minister of Public Security Guo Shengkun presided over a meeting on Saturday to discuss the issue.
Registration is a fundamental right for all citizens that is endorsed by the constitution and the law, according to the meeting.
According to the National Population Census in 2010, there are 13 million unregistered people nationwide, accounting for 1 percent of the country's population.
Without a hukou, a person is denied access to public education, reimbursement for healthcare costs and other welfare benefits.
Parents who were unable to have more than one child under the old family planning policy, cannot register their children unless they pay a significant sum of money.
More than 60 percent of China's unregistered people are in this category, according to research in 2014 by the Institute of Social Development at the National Development and Reform Commission.
Other unregistered people include abandoned children, children born out of wedlock and those whose documents are missing.
The research found that unregistered people tend to lack a sense of personal security, as they are excluded from the social security system. Without legal documents that identify them, unregistered people cannot travel long distances easily, which restricts population mobility, the research found.
Social instability increases and social inequalities escalate if some people are excluded from the hukou system, the ministry said during Saturday's meeting.
The ministry declared its intention to help unregistered people obtain proper recognition and protect every citizens' right to hukou.
Since the Third Plenum of the 18th Central Committee of the Communist Party of China in 2013, the top leadership has issued several documents on hukou reform, signaling a determination to reform the system.
In late 2013, the government first relaxed the family planning policy, allowing couples to have a second child if one spouse was an only child.
In October, China introduced an overall two-child policy, reducing the possibility of people remaining unregistered due to a violation of the country's laws.
pengyining@chinadaily.com.cn