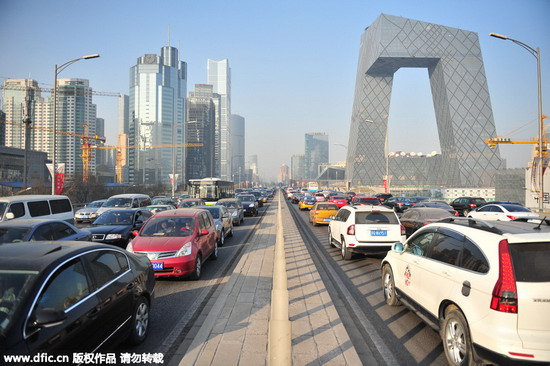 Masses of vehicles move slowly on a highway during a traffic jam in Beijing, China, on January 18, 2014. [Photo/IC]
Beijing commuters lose an average of 808 yuan ($127) in time-cost per month due to traffic congestion, the highest among major Chinese cities, according to a report.
An Analysis Report of Traffic in Major Chinese Cities in the Third Quarter of 2015 was released on Monday by AutoNavi Software Co, a Beijing-based company who provides a location database for Apple Maps.
The report shows that for every one hour of commuting, 30 minutes are wasted on traffic jams in Beijing. Assuming that a commuter spends two hours per day on the road over 22 working days, he will lose 808 yuan a month based on a working time and payment conversion rate of Beijing's average monthly wage of 6,463 yuan in 2014.
Cities with a higher level of development and higher monthly wages lose more money due to congestion, according to the report. The cities losing more than 600 yuan in time-cost after Beijing are Guangzhou (753 yuan), Shenzhen (728 yuan), Shanghai (649 yuan), Dalian (628 yuan) and Tianjin (601 yuan), based on a working time and payment conversion rate of their own average monthly wage in 2014.
It also reveals that Ji'nan, the capital of East China's Shandong province, surpassed Beijing to become the most congested city in the third quarter.
Other cities in the top ten are Beijing, Hangzhou, Guangzhou, Harbin, Shenzhen, Shanghai, Dalian, Chongqing and Qingdao. Qingdao, another important developed city in Shandong province, entered the top ten list for the first time.
Beijing tops domestic list for traffic congestion in second quarter
Beijing topped the traffic congestion list of 45 major domestic cities in the second quarter, and the frequent use of ride-hailing services was cited in a report as a major reason.
Commuters in Beijing spent on average 32 minutes per hour in traffic jams while traveling during rush hours, said a report released on Tuesday, Aug 25 by AutoNavi Software Co, a mobile web-mapping service provider.