West Second Ring Road is city's most crowded thoroughfare during the daytime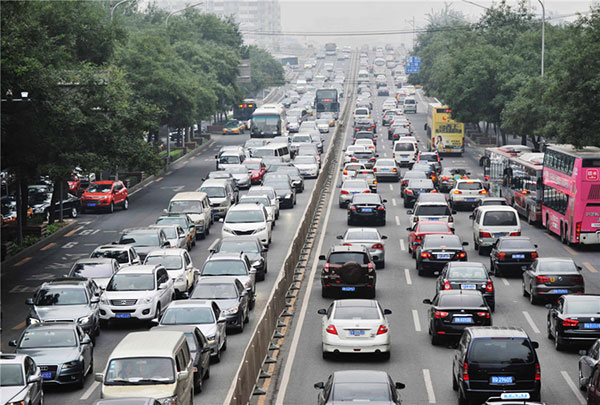 Traffic grinds to a standstill during the peak rush hour on Monday morning, Sept 22, 2014 near Liujiayao Bridge, Third Ring Road South. [Photo/Xinhua]
Beijing topped the traffic congestion list of 45 major domestic cities in the second quarter, and the frequent use of ride-hailing services was cited in a report as a major reason.
Commuters in Beijing spent on average 32 minutes per hour in traffic jams while traveling during rush hours, said a report released on Tuesday by AutoNavi Software Co, a mobile web-mapping service provider.
Workers' Stadium North Road, adjacent to Taikoo Li Sanlitun, the capital's busy entertainment zone, was ranked as the country's most congested road at night, with accumulated jams totaling 162 hours from April to July, the quarterly report said.
Beijing's West Second Ring Road was ranked as the most severely congested during the daytime, with drivers experiencing congestion for eight hours per day in the second quarter, the report said.
The Beijing Transportation Research Center, under the city transportation commission, also found worsening conditions in July as the traffic index increased 31.6 percent year-on-year. Rush hour congestion was 36.4 percent higher in July than the previous year.
Following the capital, the top five most congested cities were Hangzhou, Guangzhou, Jinan and Dalian from April to July, according to the traffic jam index, which was calculated by AutoNavi.
Rainstorms were a major reason for extended traffic jams, especially in southern cities, which have been hit frequently by heavy rainfall, said the quarterly report, which is based on data from more than 300 million users.
Guangzhou, for example, had 32 days of rain in the second quarter, which contributed significantly to worsening traffic quality. The rain extended typical journeys by 30 minutes.
Frequent use of vehicles from ride-hailing services was also cited as a major factor in worsening traffic, especially in Beijing, the survey said. The traffic jam index began climbing in May.
"E-hailing services have changed passenger habits on commuting and travel, and the frequent use of private vehicles summoned from the services has put more pressure on rush-hour traffic," said Wang Yujing, a data analyst at AutoNavi.
Wang said increased use of public transportation in rush hours could help the situation.
The report also found that 40 of the 45 major cities surveyed saw worsening traffic conditions when compared to the same period last year. First-and second-tier cities such as Beijing, Shanghai and Chengdu saw more obvious deterioration.
The Beijing Transportation Commission also noted a negative impact from ride-hailing apps.