In today's trending, college students 'worship' snowmen to pass their exams, ISIS in Shenzhen is the name of a clothing store, not a terrorist group and a man who hid 35,000 yuan learns the hard way that burying it is not the best way to save money.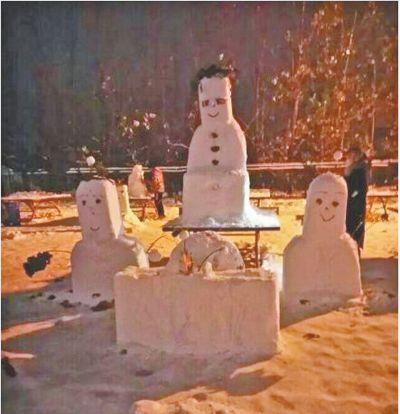 The snowmen. [Photo/Sina Weibo]
College students in Henan worship snowmen for finals pass
Some students at a university in Zhengzhou city, Henan province were spotted worshipping snowmen they built on campus on Thursday, hoping to get some extra luck to pass their finals, Chinanews.com reported.
As the city was recently blanketed by the first snow of the year, the students made the snowmen and even a snow "box" to collect money.
With finals approaching, students started to throw coins into the "box" and pray to the snowmen to pass their exams.
In our next story, police investigate a Shenzhen store that has the same name as a terror group.