In today's two sessions, sniffer dogs ensure security, a surplus of reporters, cars-on-demand apps not allowed, and Huugjilt's mother.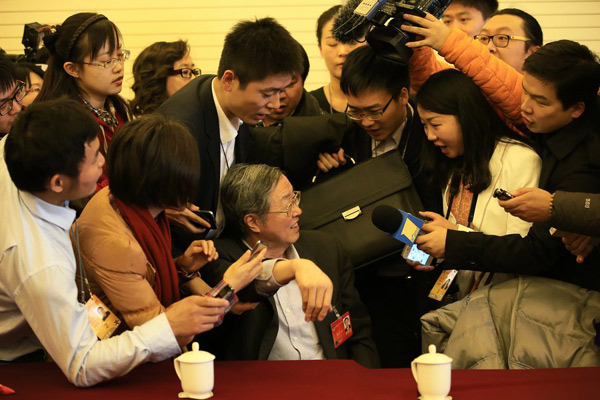 Zhou Xiaochuan, governor of the People's Bank of China, is surrounded by reporters after a press conference on March 4. [Photo/CFP]
Too many reporters?
A reporter's log on Friday from China Youth Daily questions if there are too many reporters at the two sessions.
Aside from the 3,000 registered reporters participating in the two sessions, there are even more from all corners of the nation without official registration.
According to CPPCC member Ge Jianxiong, there are over 8,000 reporters in total, which is way more than the attendees for the two sessions.
The unregistered reporters hang around the hotels where the attendees stay to interview them as they are not invited to the official meetings.