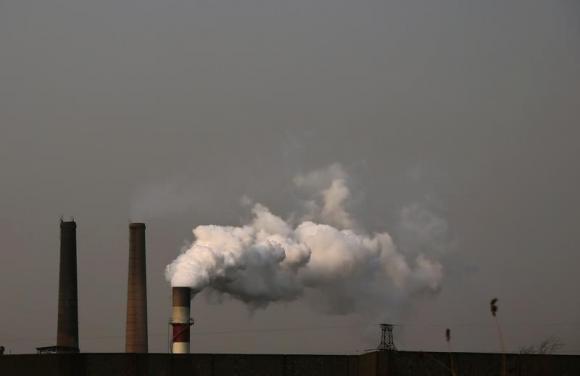 Smoke rises from a chimneys of a steel mill on a hazy day in Fengnan district of Tangshan, Hebei province February 18, 2014.[Photo/Agencies]
China will tackle air pollution with tough punishments that will make the costs for those behind illegal production and emission "too high to bear", Premier Li Keqiang said on Sunday.
The premier commented on strengthened efforts this year to tackle air pollution during a news conference at the end of the third session of the 12th National People's Congress, the country's top legislature.
China has made tremendous efforts since declaring war on air pollution last year, Li said, "but we are determined to carry forward our efforts until we achieve our goal,"
Major cities are set to have improved air quality and great reduction in PM2.5-particulate matter with a diameter smaller than 2.5 microns that can penetrate the lungs and harm health-by 2017.
For example, the concentration of PM2.5 in Beijing is targeted to be lowered to 60 micrograms per cubic meter by that time. While the PM2.5 concentration in the capital was reduced to 85.9 micrograms per cubic meter last year after a series of measures, a drop of nearly 4 percent, it failed to reach the annual goal of a 5 percent reduction.
In response, governments will focus their efforts this year on fully implementing the revised Environmental Protection Law, which took effect on Jan 1.
"For all illegal production and emissions, all those responsible will be brought to justice and held accountable, and we need to make the cost for pollution too high to bear," the premier said.
Under the law, no one is allowed to meddle with law enforcement in curbing air pollution. Additionally, law enforcement will be supervised to prevent any relaxation in the performance of duties or abuse of powers.
"We must ensure that the law will work as a powerful and effective tool in fighting pollution, instead of being soft as a cotton stick," Li said.
Chen Jining, minister of environmental protection, said last week that his ministry will conduct a thorough inspection of projects this year, with special emphasis on illegal projects that began construction before an environmental assessment could be conducted.
In addition to stronger implementation of the revised law, regarded as the strictest version ever, China will also pay more attention to coordinated efforts to adjust the economic structure and improve the quality of fuel and measures to curb air pollution.
Premier Li said, "Our targets for energy conservation and emissions reduction are put together with all these major targets of economic and social development, which all come very early in the Government Work Report."
He also called for joint efforts of the whole society, including governments, companies and individuals, to fight air pollution.
Chen said efforts to curb pollution will fuel economic growth.
He added that in the next few years, total investment in environmental protection from government and society will be at a high level, around 8 trillion yuan ($1.3 trillion) to 10 trillion yuan, which he described as a new and sustainable engine for the domestic market.