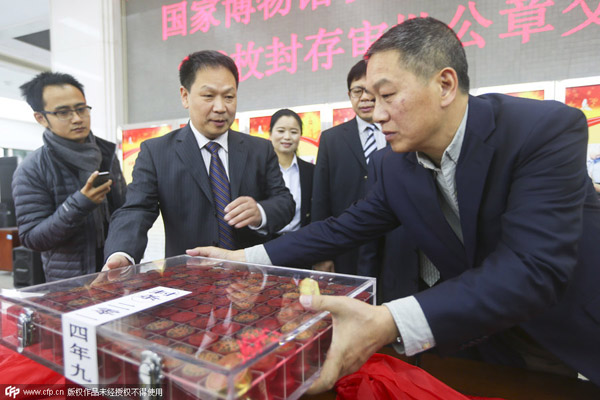 As many as 109 official seals were displayed at a museum in Tianjin on November 15, 2014, after they were locked up to reduce red tape and streamline administrative approval. [Photo/CFP]
Premier Li Keqiang said Sunday he is determined to keep the reform process going despite the acute pain in the process, vowing to reduce more government power lists.
"The pain (of reform) is still there and is becoming more acute. The government is reforming itself. Vested interests will be upset. This is not nail-clipping but taking a knife to one's own flesh. We are determined to keep going until the job is done," he said at a press conference in Beijing.
Li acknowledged that some reform measures have yet to be fully implemented, pledging to step up efforts and cut "all non-government review items."
He rejected concerns about the possible impact of the reform on China's economy.
"The reform of streamlining administration and delegating government powers will increase market vitality and allow us to cope with the slowdown," he said.
A State Council document published measures last month to speed up the administrative approval process, listing 10 ways to set time limits for the process and improve transparency.
Decisions on approval must be announced within a limited time and may not be prolonged for any reasons, according to the document. There should be "green passages" to give priority to projects supported by the government.
Last year, the State Council has required all central government departments to make public catalogues of their remaining administrative approval items.
China has been streamlining the procedure and delegating powers in the hope of stimulating the market. In the past two years, 798 administrative approval items have been canceled or delegated to local governments. However delays, redundant procedures and opacity remain common.