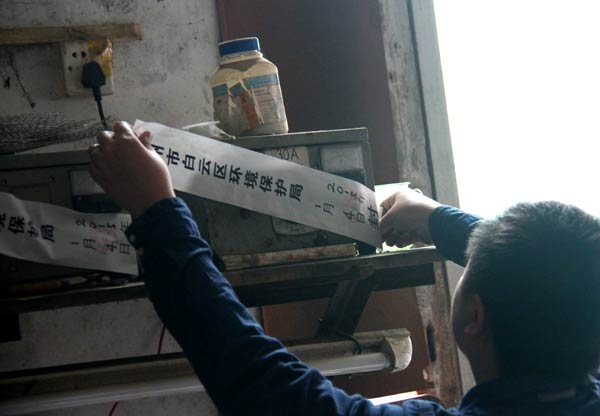 Equipment at a watchmaking plant is sealed by a member of the environmental supervision team of Guangzhou, Guangdong province, on Jan 4 after the company was found to be seriously polluting the surrounding environment. [Photo/China Daily]
BEIJING - China's Ministry of Science and Technology has started planning for a five-year air pollution prevention and control project, the ministry announced on Tuesday.
A draft blueprint for the project has been published on the ministry's website and the ministry is soliciting public comment.
According to the draft, the focus of air pollution control in China should be shifted from simply responding to heavy smog to a coordinated scheme to prevent both PM2.5, or airborne particles measuring less than 2.5 microns in diameter, and ozone (O3).
Air pollution monitoring and management practices will be shifted from the city level to a regional scale, the draft said.
Authorities will promote joint scientific and technological research and sharing of achievements to support air pollution control efforts, the document said. The research will focus on the cause and spread of pollution, its impact on health, monitoring and warning systems, as well as pollution management and air quality improvement technology and strategy.
The research will also help promote the diagnosis and prevention of pollution-related diseases, the draft added.
According to the draft, the project will be carried out starting this year until 2020.
The ministry said it will improve the plan after listening to opinions from government departments and experts.