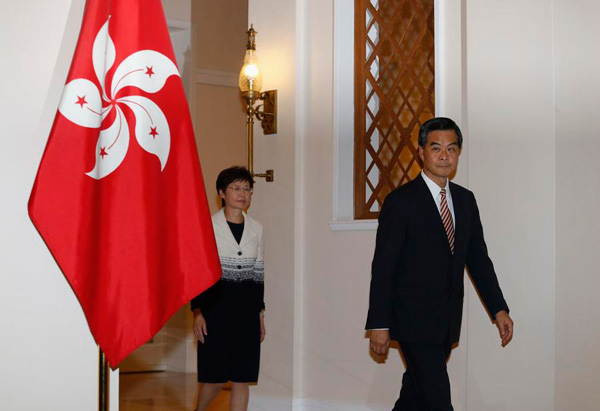 Hong Kong Chief Executive Leung Chun-ying and Chief Secretary Carrie Lam walk past a Hong Kong flag as they attend a news conference in Hong Kong, late October 2, 2014. [Photo/Agencies]
There is no need to worry that the central government will tighten its policies toward Hong Kong and the "one country, two systems" principle should not be changed at will, Chinese Premier Li Keqiang said Sunday.
It is the basic state policy of China to adhere to the principle of "One Country Two Systems" and Hong Kong people ruling Hong Kong, he told reporters at a press briefing in Beijing.
The central government will continue to support Hong Kong government and its chief executive, Li said.
He hoped the mainland and Hong Kong to strengthen economic, cultural and trade ties, and people from both sides can benefit from the ties and satisfied with the exchanges.
Hong Kong Chief Executive CY Leung announced in January the start of the second round of public consultation on constitutional reform which aims to realize the election of the next chief executive of Hong Kong by universal suffrage in 2017.
Following a blueprint set out by the National People's Congress Standing Committee, the consultation paper looks for feedback on remaining options to refine the nomination process and ballot counting.
The chief executive has made it clear that Hong Kong will not tolerate illegal acts or attempts to pressure the Hong Kong government or the central government to accept any proposal that is not in accordance with the Basic Law.
He has also urged opposition lawmakers not to deprive the city's 5 million eligible voters of the right to universal suffrage in the 2017
The 27 lawmakers in the opposition camp appear keen to block anything that conforms to the decision of the country's top legislature.