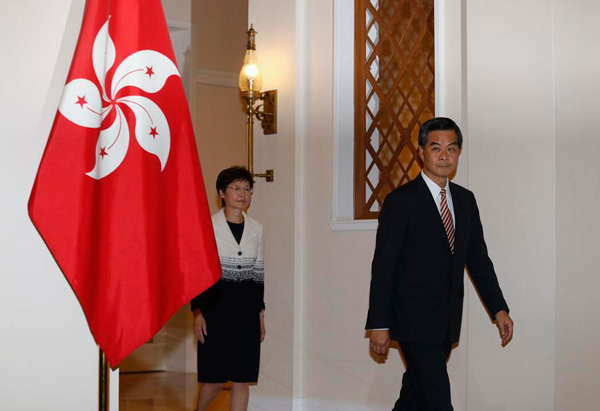 Hong Kong Chief Executive Leung Chun-ying and Chief Secretary Carrie Lam walk past a Hong Kong flag as they attend a news conference in Hong Kong, late October 2, 2014. [Photo/Agencies]
Hong Kong's chief executive and chief secretary urged opposition lawmakers not to deprive the city's 5 million eligible voters of the right to universal suffrage in the 2017 chief executive election, as the Hong Kong Special Administrative Region government launched its second public consultation to refine election procedures.
Following a blueprint set out by the National People's Congress Standing Committee in August, the consultation paper released on Wednesday looks for feedback on remaining options to refine the nomination process and ballot counting.
Topics include fine tuning composition of the nominating committee, requirements for prospective candidates to be considered by the 1,200 nominators, methods of nomination and the threshold for victory in the election.
Options include first-past-the-post and two-round voting if no candidate wins more than 50 percent of the votes. The paper also seeks a solution in case only one person wins majority support from the nominating committee.
The Hong Kong government will bring the finalized proposal to the Legislative Council before the end of June. The package must be endorsed by two-thirds of local lawmakers.
But the 5 million eligible voters in Hong Kong might be deprived of the right to choose their leaders, as the 27 lawmakers in the opposition camp appear keen to block anything that conforms to the decision of the country's top legislature.