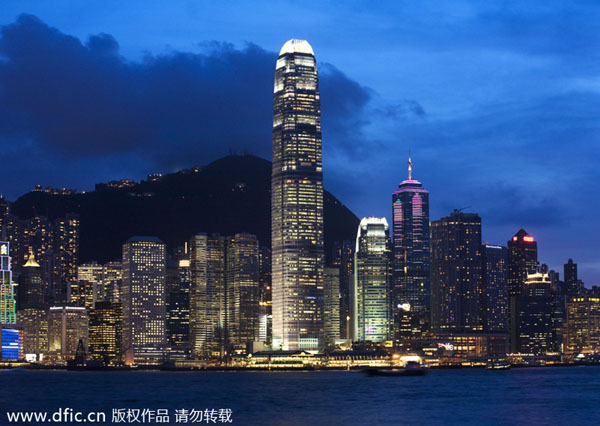 Night view of skyscrapers and high-rise buildings in Hong Kong, China, March 10, 2013. [Photo/IC]
HO CHI MINH CITY - China's Hong Kong surpassed other major investors as Japan, Singapore and China's Taiwan to become the second biggest investor in Vietnam in 2014, local Saigon Times daily reported Monday, quoting sources from the Vietnamese Ministry of Planning and Investment.
Accordingly, companies from Hong Kong had pledged over $3 billion for 99 new and 23 operational projects in Vietnam in 2014, with huge investments in the property and textile- dyeing sectors.
Huafu planned $136 million for a project at southern Long An province's Thuan Dao Industrial Park to dye 20, 000 tons of cotton and produce 30,000 tons of yarn annually. Meanwhile, Nam Phuong Textile Company has started construction on a $120 million textile project at Viet Huong 2 Industrial Park in southern Binh Duong province.
Hong Kong investors have increased their investments in textile and dyeing projects in Vietnam in anticipation of cashing in on new opportunities when Vietnam joins the Trans-Pacific Partnership (TPP).
Infrastructure development also attracted much investment of Hong Kong enterprises. Dewan International's $1.25 billion project to develop a major beach resort in coastal central Khanh Hoa province's Nha Trang city is a typical example.
Phase one of Texhong Hai Ha Industrial Park in northern Quang Ninh province was initiated in November 2014. The project is invested by Texhong Hai Ha Industrial Park Co Ltd under the Hong Kong group Texhong with a cost of 4.52 trillion Vietnamese dong ($212.74 million).
According to insiders, Vietnam has turned attractive to investors when there are more signs of recovery in the property market. The property market in Hong Kong is in decline and this is the reason why big names likes Sun Wah, Warburg Pincus and Texhong are pouring hundreds of millions of US dollar into Vietnam's property market.
As of Dec 15, 2014, Vietnam's property sector had attracted $2. 54 billion, accounting for 12.6 percent of the total FDI pledges in Vietnam. In 2013, foreign investors committed only 951 million dollars to fresh and operational projects in the sector.