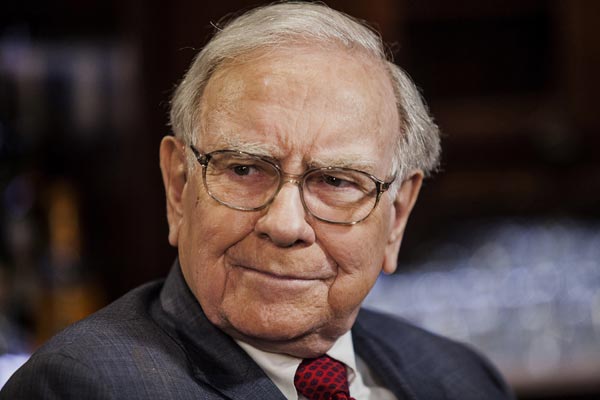 Warren Buffett, chairman and CEO of Berkshire Hathaway Inc. [Photo/China Daily]
Warren Buffett said last year that Berkshire Hathaway Inc's future will be about buying big businesses and expanding them over time. As he celebrates his golden anniversary running the company, investors are rallying behind the idea.
Shares of the Omaha, Nebraska-based company, which he took over in 1965, are trading close to an all-time high after climbing more than twice as much as the Standard & Poor's 500 Index last year. They soared even as Buffett lost money on stakes in Tesco Plc and International Business Machines Corp, one of his biggest holdings.
Not too long ago, Berkshire was seen as a way to buy into the billionaire's skill picking stocks. These days, it is primarily a bet on his ability to make acquisitions and distribute funds among the dozens of businesses he bought over the past five decades, including electric utilities, manufacturers, retailers and one of the largest US railroads.
"The market is realizing that it is more than just that stock portfolio," said David Rolfe, who oversees about $10.5 billion including Berkshire shares at Wedgewood Partners Inc.
The recent outperformance will help Buffett, 84, make the case for why Berkshire should hang together once he's no longer chairman and chief executive officer.
He has promised to chart his vision for the company's next 50 years in his annual letter to shareholders in February.
Part of that argument rests on a transition that is already under way. Most of Berkshire's stocks and bonds are held at insurance units like Geico and National Indemnity. Income from those investments accounted for about a sixth of its $15.7 billion in profit during the first nine months of 2014.
Fifteen years earlier, the holdings contributed more than 80 percent of the company's net income.
That shift softens the blow when Buffett's stock picks sour. Tesco ended 2014 down 43 percent after the United Kingdom-based grocer cut profit estimates multiple times. Buffett booked a $678 million impairment on the holding in the third quarter and called the investment a "huge mistake".
Berkshire's $11.4 billion IBM investment also hurt the portfolio. The computer-services firm ended 2014 down 14 percent-and below what Buffett paid for the shares-after saying it would not meet a five-year profit goal.
As those investments faltered, Berkshire continued its ascent. The Class A shares climbed past $200,000 for the first time in August, and ended the year up 27 percent. The $367 billion market capitalization is the fourth-biggest in the world behind Microsoft Corp, Exxon Mobil Corp and No 1 Apple Inc.
Berkshire rose even faster than Wells Fargo & Co, the largest holding in Buffett's stock portfolio.
The San Francisco-based bank surged 21 percent in 2014.
More importantly, Berkshire's businesses continued to make money. The railroad, BNSF, eked out an increase in earnings in the first nine months of 2014 even after struggling with service delays.