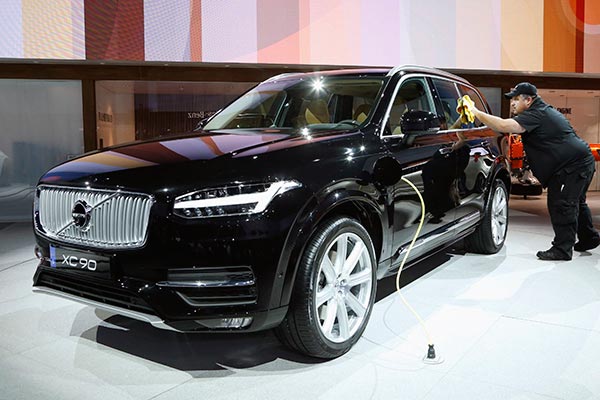 A worker polishes the 2016 Volvo XC90 at the Los Angeles Auto Show in Los Angeles, California Nov 19, 2014. [Photo / Agencies]
STOCKHOLM - Sweden-based automaker Volvo Cars reported record sales in 2014, saying a successful global transformation is behind the figures.
While sales in the United States were down by 7.9 percent to 56,371 cars in 2014, substantial growth in China and Western Europe meant an overall increase of 8.9 percent versus 2013, the company said in a press release on Monday.
Owned by China's Zhejiang Geely Holding Group Co, Volvo Cars sold 81,221 cars in its largest market China during 2014, up 32.8 percent on the previous year.
In Western Europe, Volvo Cars sold 243,514 cars, up 11.4 percent from 2013.
Sales in the United States were down by 7.9 percent to 56,371 cars in 2014 compared to the year before.
The best-selling Volvo model, the XC60 crossover, passed its full year 2013 sales figure of 114,000 cars already by mid-November, reaching the all-time record of 136,993 by the end of 2014.
"It has been a good year. Record sales underline how broad-based our performance has been in 2014. Moreover, we are profitable and we intend to stay profitable. This is crucial as it means our growth is sustainable," said Hakan Samuelsson, president and chief executive at Volvo Cars.
Volvo Cars stated in its press release that it is midway through a global transformation that involves the complete renewal of its product range over the next five years, the introduction of a new modular chassis technology and world-first safety technologies.
China has been identified as the number one market for Volvo worldwide after Volvo Cars continued to grow significantly faster than the overall car market in the country in 2014.
The company said the establishment of three new manufacturing plants, a growing dealership network and continuous expansion of the product offer are the underlying factors for the continued momentum for Volvo Cars on the Chinese market. The best-selling model there was the Volvo XC60 followed by the S60L sedan and the V40.