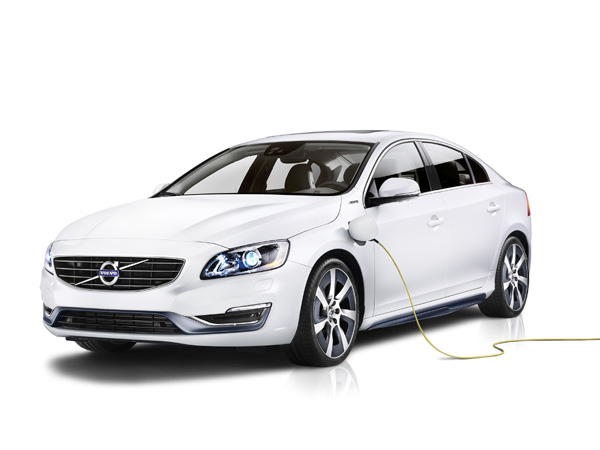 The new Volvo S60L plug-in hybrid car. [Photo Provided to China Daily]
Volvo Car Group unveiled a plug-in hybrid car on Oct 17 in Beijing as new-energy vehicles gather momentum in the world's largest auto market.
The S60L plug-in hybrid will hit the road in the first half of 2015, the company announced. Manufactured at Volvo's Chengdu plant, it will be the first premium new-energy vehicle to be mass-produced in China.
All Volvo cars produced in China will meet the automaker's stringent safety and quality standards and new energy vehicles are no exception, said the CEO of Volvo Car China Lars Danielson, adding, "We will never risk sacrificing our reputation."
Danielson said the model is a three-in-one car that customers can drive as a pure electric vehicle, a hybrid or a high-performance car by simply changing the mode selection button.
The automaker said the car can cover up to 50 km on pure electric power, adding its survey of car owners in seven Chinese cities show that mileage can meet the needs of 75 percent of daily commuters in the country. It takes six hours to fully recharge the vehicle using a household socket.
In the hybrid mode, the model has a combined fuel consumption of 2 liters per 100 km, which translates into carbon dioxide emissions of about 50 grams per km, and in the high-performance mode, it takes only six seconds to reach 100 km per hour, the company said.
The model's price tag remains unknown but Volvo Car China's Vice-President for Corporate Communications Michael Ning said the price would be "very competitive".
Danielson said Volvo has not set a sales goal for the model but he expected it to be as popular as the company's V60 diesel plug-in hybrid. Launched in 2012, more than 11,000 units of the model have been sold globally.
Danielson said he believes it is the right time to launch the S60L plug-in hybrid in China as the country's new-energy vehicle market is starting to gather momentum this year.
Statistics from the China Association of Automotive Manufacturers show a total of 38,163 new-energy vehicles were sold in the first nine months of this year, of which 41.6 percent are plug-in hybrids.
Danielson said that figure would significantly grow once the policy barrier in some cities is removed.
He said the new model also marks a milestone in Volvo's three-step roadmap toward its goal of "zero emissions".
"The first step is to improve fuel efficiency by optimizing traditional internal combustion engines. The second step is to adopt plug-in hybrid technologies as mainstream for the time being. And, in the long term, we make ourselves ready for a pure electric solution, if needed."