Volvo Cars recently launched its Sensus connectivity system in China, becoming the latest in a string of carmakers offering local customers access to the mobile Internet and related services.
The Swedish carmaker, now owned by China's Zhejiang Geely Holding Group, first installed the latest system on its 2015 S60L model that hit the Chinese market in June, followed by the XC60, V60, S60 R-design and V40 in July.
The Sensus has diverse functions including navigation, entertainment apps, voice control, remote control via smartphones and call center services.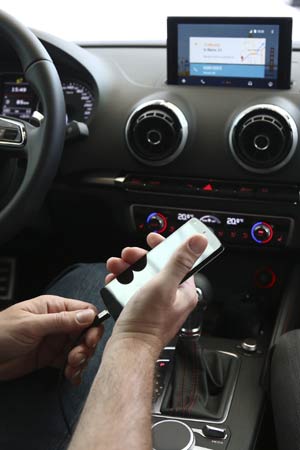 A Google employee demonstrates the Android Auto interface. ELIJAH NOUVELAGE/REUTERS
Customers can check the status of their vehicles through a smartphone app named Volvo On Call. On hot summer days, for example, the app can start the air conditioner in the car before the driver gets inside, a feature especially alluring in the high July temperatures now recorded in China.
In addition to car information, owners can get weather and stock data or book hotel or air tickets through the call center.
In the event of a major accident, the car can start emergency calls automatically.
Lars Danielson, senior vice-president for Volvo Cars China Operation, said there's an obvious trend toward in-car connectivity in China and local customers have strong demand for such technologies and services.
He added that the latest connectivity experience and services are expected to attract more buyers in China.
Like Volvo, many other carmakers have also developed human-car interactive systems with connectivity technologies. Ford has the Sync, BMW has ConnectedDrive, Mercedes-Benz has Command, Peugeot has Blue-i, GM has on-star, Toyota has G-book and domestic carmaker SAIC has inkanet.
Despite the varied names and nuances in designs, the system have functions in common such as navigation, call center services, popular entertainment apps, connection with smartphones, and some have voice control.
According to a survey by consulting firm Accenture in 12 countries including China, the US, Italy and Brazil, in-car technology has more influence on vehicle purchase decisions than driving performance does.
The survey also found that Chinese drivers exhibited the strongest interest in connectivity technologies among 12 countries.
In-car connectivity technologies also lay the foundation for expected future revolutions in innovation such as smart traffic control and driverless cars.