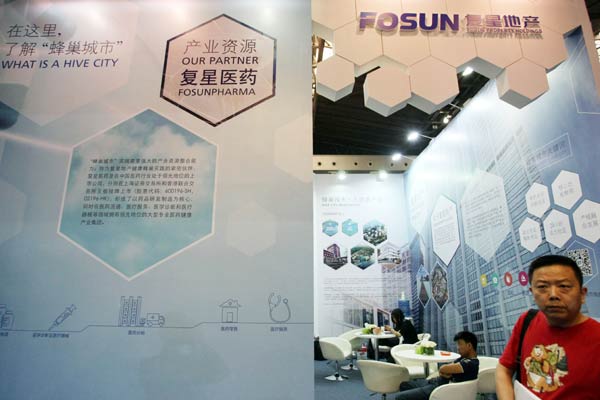 Fosun Group's booth at a recent international exhibition in Shanghai. Fosun plans to double its assets in the next five years and is on the lookout for healthcare, tourism and fashion acquisitions in the US and Europe. Provided to China Daily
Tycoon follows Buffett's investment strategy to build a business empire
Twice a week in the winter of 1987, students living in the No 5 dormitory of Shanghai's Fudan University would hear a familiar knock close to midnight. A slight, bespectacled philosophy major was going about his rounds selling bread door-to-door.
The student, Guo Guangchang, earned about 30 yuan ($4.80) a month, doubling his income to help support himself through college. "I had a government subsidy then, but living costs were high," Guo says.
Guo is flush with dough these days. Using Warren Buffett as a model, he is one of a number of tycoons remaking the face of Chinese dealmaking, becoming China's eighth richest person in the process. In contrast to State-owned companies that traditionally bought resources such as mines and oil fields to fuel the country's soaring economy, Chinese entrepreneurs like Guo, 47, are looking overseas for brands, technology and financial assets that cater to the nation's growing ranks of the affluent.
"Our focus going forward is on sectors where the life of China's middle class can be upgraded: health, travel, leisure, education and the Internet," says Guo, chairman of the $48 billion-asset Fosun Group, whose fortune is estimated at $5.7 billion by the Bloomberg Billionaires Index. "We call it marrying China's growth with global resources."
Since 2010 Fosun has invested more than $3.4 billion in overseas assets including French resort operator Club Mediterranee SA, JPMorgan Chase & Co's 60-story tower 1 Chase Manhattan Plaza in New York and Raffaele Caruso SpA, an Italian maker of $3,300 suits, according to data compiled by Bloomberg.
Guo built Fosun by borrowing from the approach used by Buffett's Berkshire Hathaway Inc. It invests in financial assets such as insurance to secure long-term funding that can be deployed to expand across a range of businesses, said Eugene Qian, Citigroup Inc's Shanghai-based head of global banking for China.
"Many people talk about being Buffett in China but few can pull it off," Qian says.
Other Chinese entrepreneurs acquiring more overseas include Jack Ma, founder of China's largest e-commerce company Alibaba Group Holding Ltd, which this year bought stakes in messaging service TangoMe Inc and ride-sharing app Lyft Inc, and Wang Jianlin, who started Dalian Wanda Group. Dalian Wanda acquired British yachtmaker Sunseeker International Ltd last year, after purchasing US cinema chain AMC Entertainment Holdings Inc in 2012 for $2.6 billion including debt.
Guo grew up in Hengdian in Zhejiang province, a small farming town about 240 kilometers south of Shanghai. Plain rice served with marinated dried pickles was a major staple of the billionaire's diet as a youngster.