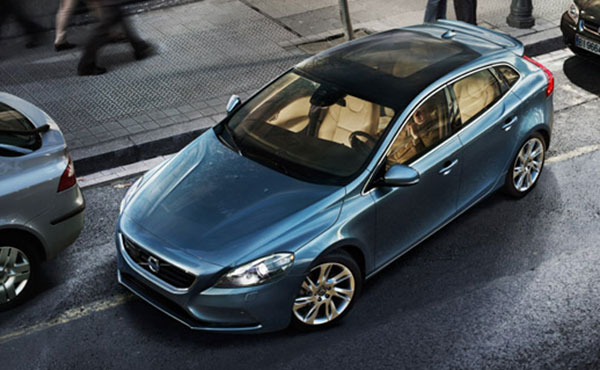 A Volvo's new V40 hatch-back car is pictured. [Photo provided to chinadaily.com.cn]
HARBIN - Volvo Cars Corp is trying to woo young drivers with new designs and in-car infotainment systems.
"Volvo used to be too unworldly and self-centered. Now it is changing to cater to the post-90s generation (people born in the 1990s)," said Li Shufu, chairman of Volvo Cars and its owner Zhejiang Geely Holding Group Co, in an interview with Xinhua on Tuesday afternoon.
Volvo, which was acquired by Geely in 2010, is catering to young customers with Apple's CarPlay infotainment system and a self-driving function, Li said.
Volvo will be the world's first carmaker to use Apple's iOS-based CarPlay. New XC90 sport utility vehicles installed with CarPlay are expected to go on sale in October, he said.
Despite style changes and technological advances, Volvo, however, will stick to its core values of safety, health and environmental care, said the chairman.
Volvo has entered a new development stage with major technological breakthroughs in gas-electric hybrids, plug-in electric hybrids and self-driving, he said.
In a bid to tap the world's largest auto market, Volvo has set up two car plants in Daqing and Chengdu, an engine plant in Zhangjiakou and a research and development center in Shanghai.
The Daqing plant in northeast China's Heilongjiang province is expected to roll out models including the XC90 in two months, according to Li.
Sales of Volvo vehicles in China have surged.
It sold 61,000 cars last year, up 45.6 percent from a year earlier. In the January-April period this year, its sales jumped 29.1 percent, higher than the 10 percent the whole industry achieved.
Volvo has set its China sales target at 80,000 units for 2014, or a growth of 30 percent, which would make the country its largest single market, surpassing the United States.
Meanwhile, Volvo will strive to become one of the dominant players in the luxury car sector by consolidating market share in traditional markets like Europe and the United States and penetrating further in developing countries including China, he said.
"We will make Volvo cars more luxurious and high-end," Li said.
Li also said he aimed to build relations between Geely and Volvo Cars into one like that of Audi and Volkswagen: they share R&D in common technologies but have different brands and product positioning.
"Geely and Volvo are like brothers, not father and son," Li said.
Volvo plant shows Xi 300,000th car to China
Volvo: New engines efficient, powerful
Geely-Volvo developing new, smaller model