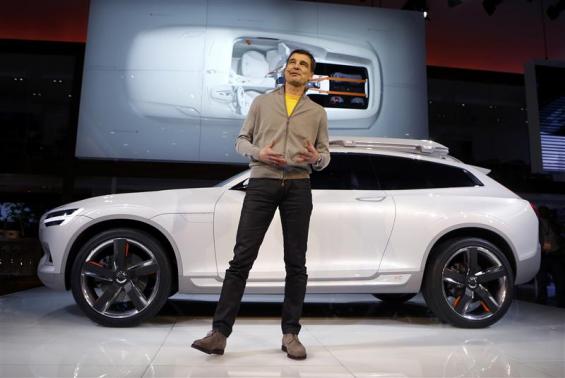 Volvo's Head of Design, Thomas Ingenlath, speaks next to the XC Coupe concept during the press preview day of the North American International Auto Show in Detroit, US on January 13, 2014. [Photo/Agencies]
DETROIT - Volvo Car Corp Chief Executive Hakan Samuelsson said on Monday the Swedish automaker returned to profitability in the year just ended after fixing its business in China and making cost cuts.
"Our target was to break even... but I can declare already today that... we are back in the black, which is extremely positive," Samuelsson said in an interview on the sidelines of the Detroit auto show.
Samuelsson was referring to operating profit, Volvo officials said.
Volvo is expected to announce its financial results for the year in March. For the first half of 2013, the company posted an operating loss of 577 million SEK ($88.71 million), according to a company spokesman.
Samuelsson attributed the turnaround to Volvo's successful restructuring of its distribution network in China, which led to a 46 percent boost last year in volume in that country to 61,146 vehicles, as well as to an overhauling of its cost structure globally.
Because of its aggressive cost cuts, Volvo was able to make money even though it posted only modest gains in global sales volume in 2013, Samuelsson said. Volvo sold a total of 427,840 vehicles last year, up 1.4 percent from 2012.
"This year our focus will be growth," he said. "If last year was sort of a year of consolidation, this year will be a year of growth."
A key component of that growth strategy, Samuelsson said, is the United States market, where the Swedish brand has struggled. Last year, according to research firm Autodata, Volvo's US sales fell 10.1 percent to 61,233 vehicles.
Volvo's message is that "we're committed to the US market," Samuelsson said. "This year will be a year when we outperform the market."
Samuelsson said the company, which was purchased by Zhejiang Geely Holding Group from Ford Motor Co in 2010, hopes to regain growth momentum with some key new products.
Those new models include the significantly redesigned XC-90 crossover vehicle, which he said should be unveiled later this year and start hitting show-rooms in the United States and elsewhere around the start of 2015.
"We will invest more in marketing and communications. We have new products. We will be more competitive with these vehicles," the executive said. "The US is one focus point for us this year."
Samuelsson also said Volvo could begin to bring some vehicles manufactured at its new plant in the Chinese city of Chengdu into the United States in an effort to insulate the company from dollar-Euro currency swings.
"The dollar and the yuan have a more stable relationship than the Euro and the dollar. So in a way also China will have a big advantage (as a production hub) for the US That is the possibility and also of course using more Chinese materials in the car," Samuelsson said.