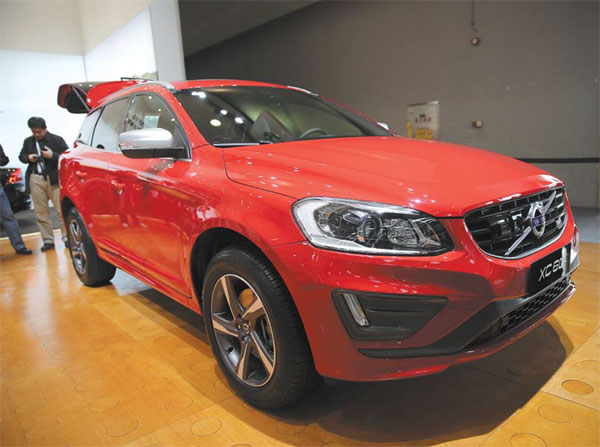 Volvo's XC 60 crossovers will be the first vehicles to use Drive-E engines in China, and they will hit the market within the year. Photos provided to China Daily
STOCKHOLM - Volvo Group reports market growth in mature economies of North America, Western Europe and Japan in the first quarter of 2014, while markets in emerging economies have weakened apart from China, said the group in a statement on Friday.
In the first quarter of 2014, net sales of Volvo Group rose by 13 percent to 65.6 billion Swedish kronor ($10 billion) compared to the same period of last year, according to the statement.
Meanwhile, operating income excluding restructuring charges amounted to 2.6 billion Swedish kronor in the first quarter, compared to 496 million Swedish kronor last year.
The European market grew by 15 percent in the first two months this year, with growth mainly from Western Europe, particularly from Britain, Germany and France.
Also the North American market grew by seven percent, mainly from compact equipment, driven by rental and housing.
In the Chinese market, the market growth reached 27 percent compared to last year, mainly contributed by the increase in the first two months.
However, in total Asian market, excluding China, the growth was only four percent above 2013, driven by the strong market growth of 38 percent in Japan during the first quarter, while India and South East Asia showed a further decline.
Furthermore, the group reports decrease in South Africa of 11 percent, mainly caused by Brazil after the majority of the large government deals had been delivered in 2013 as well as low demand for commodities impacting markets across the region.
The Volvo Group, headquartered in Gothenburg of Sweden, is one of the world's leading manufacturers of trucks, buses, construction equipment and marine and industrial engines, which also provides complete solutions for financing and service.
In 2013 the Volvo Group's net sales amounted to about 273 billion Swedish kronor.
Volvo: Fate rests in China, not Europe
Volvo joins list of govt procurement cars
Expanding network as Volvo gears up for local production