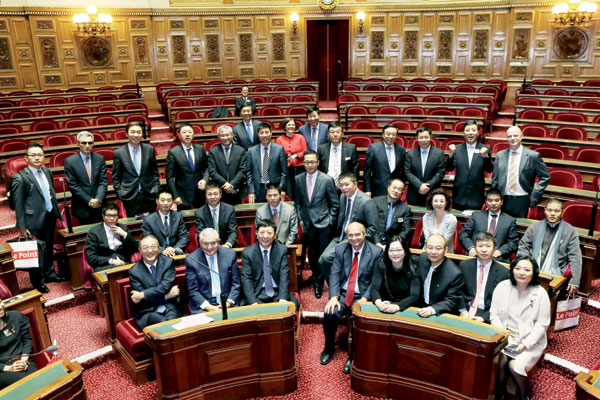 Members of the China Entrepreneur Club after taking part in a seminar in the French Senate during their visit last year. Provided to China Daily
Car magnate Li Shufu talks with friends as he comes to a tough decision
When it was announced four years ago that the Chinese carmaker Geely was buying Swedish carmaker Volvo, the company drew plaudits worldwide for the daring and astuteness of its move.
But few people are aware of the months of preparation that went into planning the $1.8 billion (1.3 billion euros) deal and the role that about 20 of China's richest and most powerful business people played in making it happen.
The man steering the ambitious plan was Li Shufu, Geely's chairman and founder. He had set up the company in 1986 as a refrigerator parts maker and had gone on to turn it into a maker of motorcycles, vans and inexpensive cars.
But as the time came to decide whether to shift up another gear by buying Volvo from Ford Motor Co of Detroit, Li's enthusiasm began to give way to doubts about whether the purchase would be in the company's best interests.
"Li was wavering before the deal was signed," says Cheng Hong, secretary-general of the China Entrepreneur Club, whose 46 members are some of China's wealthiest people.
"He asked us to arrange a meeting at which we could get together to discuss whether it was feasible."
In late November 2009, four months before the deal would eventually be announced, about 20 members of the club converged from all around China in the port of Ningbo, one of the country's oldest cities, and where one of Geely's production plants is located.
That night for over two hours in a conference room of the Marriott Hotel in the city center, the businesspeople debated the pros and cons of the deal.
Information about such deals is usually kept within a very tight circle of people, but such was Li's confidence in his fellow members that he put all his cards on the table, Cheng says. This included telling them of the dealings he had had with Ford, research from consulting companies and the potential attitudes of various governments to such a deal.
After Li had outlined what was at stake, there were warnings that he should be very careful before proceeding. After all, Geely had its hands burned earlier when it was forced to shelve an attempt to market a car in the United States, and Li was contemplating buying a highly respected but ailing 82-year-old brand.
After serious questions began to be raised about the wisdom of going ahead with the deal, Li addressed the gathering, Cheng says. She quotes him as saying: