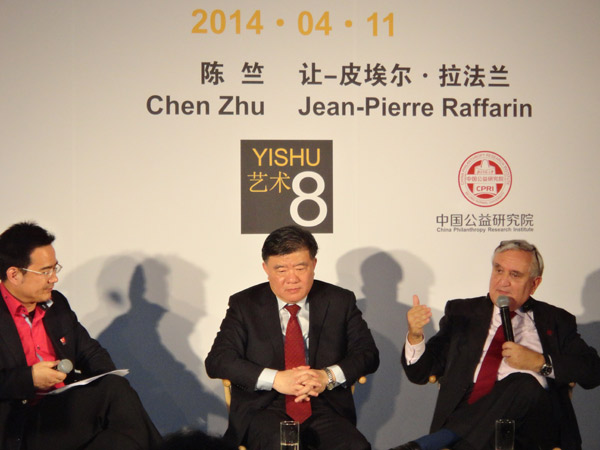 Chen Zhu, China's former health minister and former French Premier Jean-Pierre Raffarin participated in the "50 years, 50 people" forum on April 11 in Beijing.[Photo by Song Jingli/chinadaily.com.cn]
Chinese executives and entrepreneurs said they have learned a lot from French culture over their years of doing business with the European country.
Zan Yunlong, 80 years old and former chairman of China General Nuclear Power Group said at a Sino-French cultural exchange forum that culture is the expression of people's hearts and he learned about French industrial civilization even though he was not a cultural expert. The forum was held in Beijing on April 11, by Beijing Yishu 8 and the China Philanthropy Research Institute.
Zan participated in building China's Daya Bay Nuclear Power Plant in the 1990's with the French EDF Group.
He said although China has a splendid culture, it has lagged behind in the world's modernization over the past 200 to 300 years due to weak economic foundations.
"The team leaders in charge of construction used to punish workers when they failed to finish work on time, but we asked them to change their mindset and take work quality into consideration.," Zan said, citing his small experience on management he learned from his French partners.
"When a problem occurs, the first thing should not be about punishment at all but should be about finding the underlining reasons," he added.
Like Zan, Wang Chaoyong, President and CEO of China Equity Group, admitted that China used to be advanced in culture, but has lagged behind for some time.
"We tend to think the spirit of exploration in one culture will be lost when it is too advanced, but France has done a very good job in retaining this spirit," Wang said.
A French diplomat launched the first Beijng-Paris rally in 1907 when the Chinese boarder areas and central Asia were still dangerous, Wang said.
Wang co-launched the China Grand rally in 2013. The race was held along the Silk Road, covering Chinese provinces like Gansu and Shaanxi.
As for ocean exploration, Wang said China has lost touch with the sailing tradition ever since Zheng He's seven far-reaching ocean voyages to the coastal territories and islands in and around the South Sea of China, the Indian Ocean, and beyond during the years of 1405 to 1433.
Wang, inspired by French sailing, acquired the French yacht club Le Defi in 2005 and made the club manage the America's Cup - China Team, the first Chinese team to participate in the international yachting competition. The same team later participated in several competitions held in China.
He said he hopes these efforts will inspire more Chinese young people to explore, to protect the ocean and to use ocean resources in a friendly way.
Building Sino-French ties on brands
Vive la France is to the point