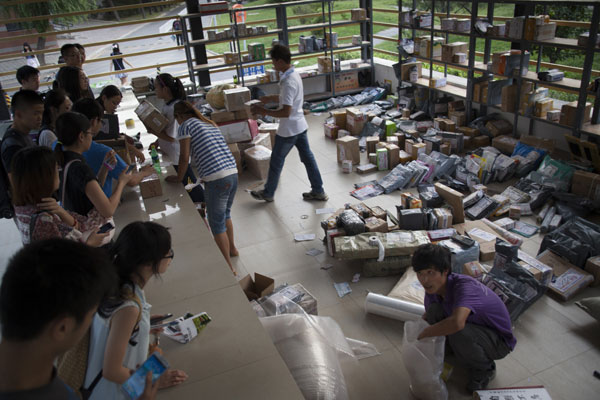 Tsinghua University students pick up deliveries of online shopping. Male victims of Internet fraud nearly doubled those of females last year, according to Qihoo 360 Technology Co Ltd, a Beijing-based Internet security company. KUANG LINHUA/CHINA DAILY
The number of male victims of Internet fraud was nearly double that of females last year while conmen were likely to get more money from female Web users on an individual basis, a report on Thursday revealed.
About 64 percent of the fraud victims were male in 2013, according to Qihoo 360 Technology Co Ltd, a Beijing-based Internet security company.
It noted that although the number of female online shoppers greatly outnumbers their male counterparts, females tend to make payments on a few well-known e-commerce websites while male shoppers were more adventurous about purchasing online.
"Men are willing to try unfamiliar sites if prices are lower," said the report.
Some online gaming, gambling and video-dating websites are set up as traps specially designed for men. More than 90 percent of the victims of online gaming cons were men and the ratio hit close to 100 percent for Web-based video-dating frauds, it said.
Males more easily fall for almost all the different types of fraud traps - from online shopping and ticket buying to top-up services - than females.
"Generally speaking, male shoppers are less suspicious than females when choosing sellers and that's why they are way more vulnerable," the report said.
Relatively unsophisticated and easy-to-detect phishing sites are the main channels for Internet fraud in China, with males in greater danger, although most of them believe they possess better computer knowledge than females, said Qi Xiangdong, president of Qihoo.
"It is astonishing that a simple fraud can net tens of thousands of Chinese Internet users," he said.