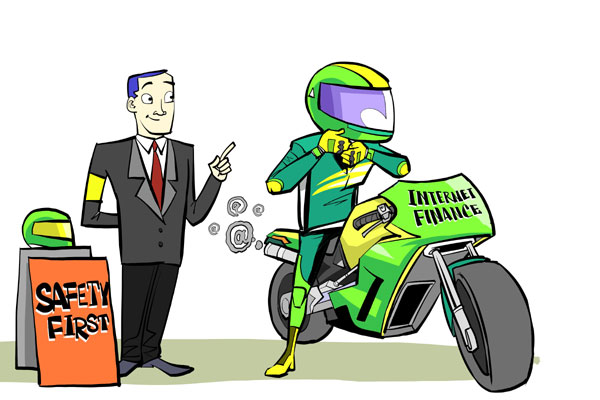 Zhang Chengliang / China Daily
Supervision is needed to regulate the Internet finance sector from excessive exposure to risks
Internet finance is one of the hot topics that figure prominently at the annual "two sessions" of China's top legislators and political advisers.
Former president of the Industrial and Commercial Bank of China Ltd Yang Kaisheng, Bank of Beijing Co Chairman Yan Bingzhu, former head of the China Banking Regulatory Commission Liu Mingkang and several other prominent bankers have, in recent times, been vocal in their demands for regulating the Internet finance sector. Incidentally, the named people are all members of the National Committee of the Chinese People's Political Consultative Committee, China's top political advisory body.
Among others who have made similar pleas are Zhou Xiaochuan, the central bank governor, who said on March 4 that the People's Bank of China is exploring various steps for regulating the fast-growing Internet finance sector. His comments come close on the heels of a statement by China Securities Regulatory Commission that it was also working on similar measures.
All these developments reflect one thing. That is, the steady rise of Internet finance is indeed a tough challenge to normal banks, which have enjoyed a monopolistic position for a long time and made easy gains from the artificially set interest rate gap.
Internet finance companies have already made a difference by shaking the foundation of banking monopoly. As an industry, Internet finance emerged a few years ago with peer-to-peer lending websites offering a platform for individual and small businesses to get loans from retail investors.
These platforms proved to be popular with small businesses that had faced innumerable difficulties in getting funding from banks. In the early days, these platforms did not raise too much attention because they were small and the clients not traditional banking customers.
Things changed last year, when another form of Internet finance, as represented by a product called Yu'ebao, started gaining popularity. Yu'ebao roughly means "leftover treasure".
The product, jointly launched by Internet giant Alibaba Group Holding Ltd and Tianhong Asset Management Co Ltd, involves Alibaba collecting idle money from individuals for Tianhong to invest in the money market. Because the product offers higher returns than regular bank deposits, it started gaining popularity.