Entrepreneurs grow optimistic
Updated: 2013-11-05 07:10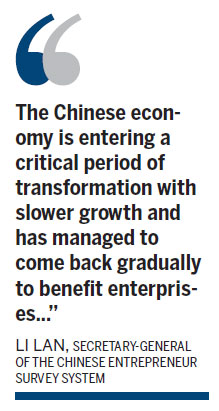 In a notable change of mood, Chinese entrepreneurs have shown a sense of optimism not seen in many months, according to a survey by the Chinese Entrepreneur Survey System.
Respondents to the survey said they were encouraged by a pickup in overseas demand - and inventories have returned to normal levels. Although credit has remained tight, respondents said they could expect an increase in profits from the rise in export prices.
The annual survey received responses from 3,545 businesses across the country between July and September. The number of respondents who said the economy is good or very good increased 5.8 percent over the survey last year, while those who said the economy is bad fell 16.4 percent.
The survey discovered expectation toward the fourth quarter and the next year is higher than it had been. A total of 32.1 percent of entrepreneurs expect to receive more orders for the final quarter, 9.2 percentage points higher than those expecting to obtain fewer orders. It marks an increase of 12.9 percentage points compared with 2012.
"The Chinese economy is entering a critical period of transformation with slower growth and has managed to come back gradually to benefit enterprises with an improved economic environment," said Li Lan, secretary-general of the Chinese Entrepreneur Survey System.
More than 79 percent of entrepreneurs said they haven't received enough demand or severely lacked orders from overseas, 4.7 percentage points lower than the previous year.
Decline in export trading also has eased slightly, while 35.4 percent of entrepreneurs said export volumes increased, 17.5 percentage points higher than the figure for 2012.
Meanwhile, export prices became stable with a rise in export volumes. A total of 12.4 percent of enterprise owners said prices had climbed while 47.4 percent said they had remained the same, 3.9 percentage points higher than in 2012.
In profit-making among enterprises, 48.8 percent of enterprises obtained positive results in the first half of the year, the same as 2012, according to the survey.
"It is expected there will be positive growth in net profit with nearly 8 percent benefiting by the slight comeback from the third quarter, although the performance of the first half of the year was very poor," said Qian Shaotian, a sales manager of Shanghai Yuanzong Hardware Co Ltd.
Qian added it has been a tough year for trading companies mostly involved in exports but the situation seems to have improved during the final quarter with slightly more demand from overseas clients.
The survey also showed the operational situation of privately owned small enterprises was the worst where there was a more tightened financing environment. As many as 44.2 percent of entrepreneurs said that they currently suffer financial strain, 1.4 percentage points higher than in 2012.
"Privately owned small enterprises are still the weakest link among Chinese companies because they are directly affected by the changing economic situation and tightened financial policies," said Shi Jinchuan, dean of Zhejiang University School of Economics.
Shi added that the slow recovery of the economy would bring some of them back with better cash flow but most of them will still have to struggle with lack of money to retain normal operations in their businesses.