Market becomes more crowded as leading e-commerce firm joins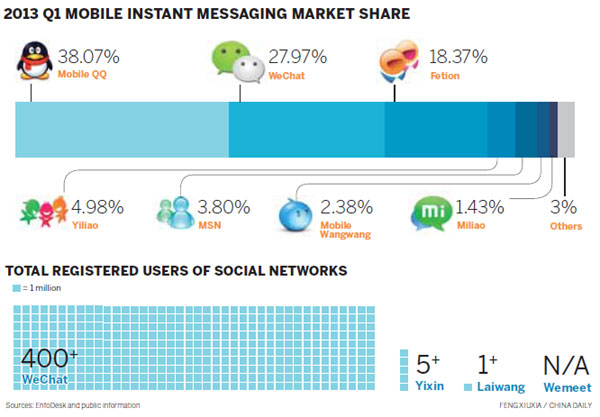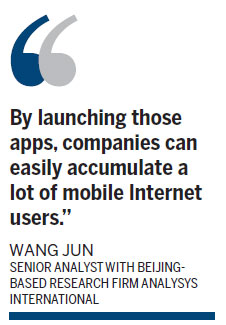 China's market for mobile chat applications has never been so crowded especially after Alibaba Group Holding Ltd - the country's largest e-commerce company - officially joined the fray on Monday with the launch of its first social networking app.
The app named Laiwang, which means come and go in Chinese, is the first product unveiled to the public after the company announced an internal restructuring program earlier this month with a strong focus on the mobile Internet business.
"We're a company with strong e-commerce genes, but we simply want to build a platform to keep people closer and to meet their social networking demands in the mobile Internet era," said Jonathan Lu Zhaoxi, Alibaba's chief executive officer, who is now also leading the company's newly formed Internet communication division.
He said that the era of the personal computer has ended and that his company's expansion to social networking systems is a natural evolution driven by the public's growing reliance on mobile phones.
He denied rumors suggesting that Alibaba's new app launch was due to the success of WeChat, the reigning mobile messaging service in China, which is owned by Tencent Holdings Ltd, Alibaba's archrival.
Analysts agreed with Lu, saying that the main reason prompting many players to jump into the mobile chatting app market is because messaging apps, which are seeing "rigid demand" from consumers, can help companies to lock up a great number of mobile Internet users.
"Communication is a basic need. By launching those apps, companies can easily accumulate a lot of mobile Internet users. The apps work as an entry to the mobile internet era," said Wang Jun, senior analyst with Beijing-based research firm Analysys International.
Figures from the Ministry of Industry and Information Technology said that the number of China's mobile Internet users exceeded 800 million earlier this year.
Data from Analysys International showed that the accumulated number of mobile instant messaging accounts in China jumped 85.2 percent year-on-year to 1.22 billion in the first quarter of this year.
Alibaba is certainly not the only company to have discovered the importance of an entry point to the market. On Aug 19, Chinese operator China Telecom Corp Ltd unveiled its mobile messaging app, known as Yixin, in collaboration with Internet firm NetEase Inc.