Despite an uncertain global economic climate in recent years, advertisers have been taking a generally positive attitude toward sports in Asia. Data suggest that, from jewelry retailers to automakers, major brands are doling out millions of dollars on sports advertising in the region.
GroupM, the consolidated media investment management arm of communications giant WPP, says that advertisers in India spent 92 percent more in sporting event in 2013 on sporting events than in 2008. GroupM has based its conclusions on the parameters of sponsorship, athlete endorsement and media spending.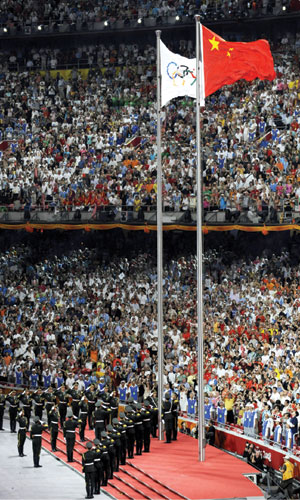 The Chinese and Olympic flags are raised during the opening ceremony for the 2008 Beijing Olympics. The event represented a huge advertising opportunity, as it attracted a Chinese television audience of 842 million. AFP
"Total spending on sports advertising has increased from 21.49 billion rupees ($356 million) to 41.1 billion rupees between 2008 and 2013 in India. It depicts the whole story of the region," Dilip Cherian, founding partner of communication firm Perfect Relations, tells China Daily.
The same applies to Asia as a whole. In China, sponsorship accounts for some 48 percent of total sports revenue, according to a PricewaterhouseCoopers study, Outlook for the Global Sports Market to 2015.
Specialists in sports marketing believe that the rise in sponsorship spending reflects the growing wealth and spread of the new middle class in many Asian countries.
They say that the huge following for the English Premier League and European Champions League football in the region is a good indication of the size of the prize.
According to a recent report by the Organization for Economic Cooperation and Development, the economic outlook in emerging Asia (Southeast Asia, China and India) remains robust over the medium term, anchored by the steady rise in domestic demand.
Real GDP in emerging Asian economies as a whole is expected to grow by 6.9 percent a year from 2014 to 2018.
"With the expanding economic opportunity, sports events have caught the attention of marketing professionals and advertisers. Global brands are likely to leverage the potential of the situation," says Cherian.
Besides growth in the region, it is the sheer size of sporting audiences that woos advertisers. According to various estimates by Nielsen Holdings NV, a global information company, soccer is watched by 4.1 billion fans in over 100 countries worldwide. Every four years, the FIFA World Cup alone garners over 1.5 billion viewers.
Cricket, followed in over 25 countries, is watched by 650 million people, with the Cricket World Cup garnering roughly 200 million viewers.
Nielsen estimates that tennis has 330 million worldwide viewers, ice hockey 250 million, baseball 220 million, basketball 200 million, volleyball 150 million, table tennis 130 million, rugby 125 million and golf 100 million.