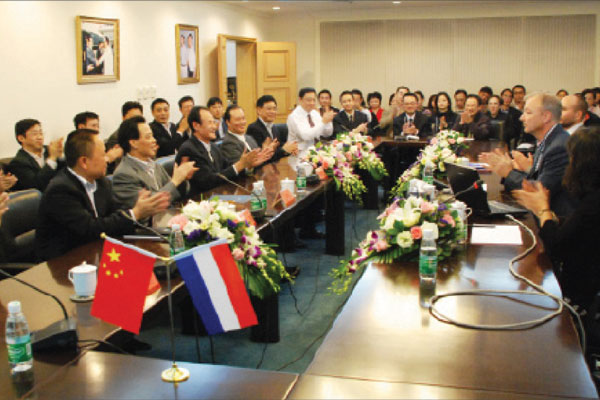 A celebration is held by Chengdu Diao Pharmaceutical Group Co for production lines of its Diao Xin Xue Kang capsules getting a Good Manufacturing Practice certificate from European Union. Provided to China Daily
Traditional drugs finding new respect in Europe, US
Chengdu Diao Pharmaceutical Group Co, the biggest pharmaceutical company in western China by revenue, is expanding its presence in Europe as it pursues a stronger foothold in a tough market that's had limited access to traditional Chinese medicine.
President Li Bogang says the company is in the process of registering its core product - Diao Xin Xue Kang capsules - in the United Kingdom and Germany. The product was licensed by the Dutch Medicines Evaluation Board in 2012, making it the first TCM drug to receive marketing authorization in a Western country.
The drug, which comes in capsule form, was developed in 1988 after eight years of research by a team led and funded by Li. The product, classified in the Netherlands as a Chinese herbal medicine used for treating myocardial ischemia, has been widely used in clinical treatment in China for more than two decades.
"Because both Britain and Germany have larger populations than the Netherlands and better knowledge of Chinese medicine, we hope more European consumers and patients can now benefit from the clarity provided by the registration granted by the Dutch authorities," Li says. "For our product, there has been a careful evaluation of quality, benefits and risks."
Under mutual recognition arrangements within the European Union for the registration of medical treatments, foreign medicinal products must undergo a number of application procedures to expand their authorization scope to other EU countries.
Even though TCM products are already sold in major international markets, they're marketed solely as dietary supplements or non-medicinal treatments, as opposed to being marketed as therapeutic drugs.
In 2011, the European Medicines Agency ordered that all TCM products must undergo a registration process before entering the European market, making it more difficult for TCM products to penetrate the Western health services market.
As big multinational companies such as Denmark's Novo Nordisk AS, Pfizer Inc and Eli Lilly and Co of the United States have heavily invested in China, Li says capable Chinese pharmaceutical companies must make changes and readjust their development models to seek new market growth points. Companies must focus on "either maintaining the country-level market share or making the move to overseas markets," says Li.