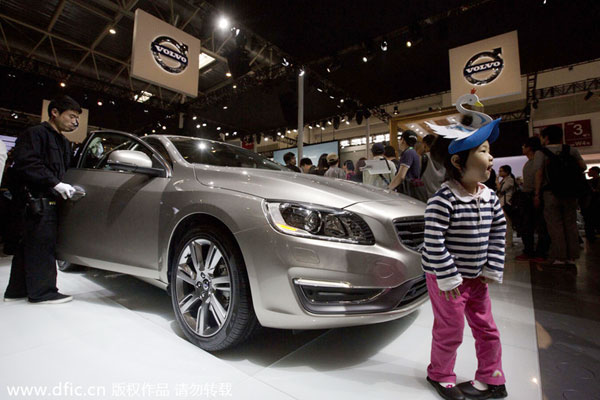 A child poses near a Volvo S60L at the Auto China 2014 in Beijing, April 20, 2014. [Photo/IC]
Entering its "second stage in China", Volvo hopes to offer a new lifestyle that combines eco-friendly concepts, luxury, sportiness and a bond with the nature and family, said Ning Shuyong, Volvo China's vice-president in charge of public relations.
According to Ning, the past two or three years were the first stage as the Swedish brand made preparations following the acquisition of Volvo Cars Co by Zhejiang Geely Holding Group in 2010.
The focus of the next phase is brand building through the introduction of its all-new design language, said Ning.
That language will showcase on brand's flagship model - new Volvo XC90, which will debut in the fourth quarter of the year in China, Ning said.
The design also expresses "unprecedented emotion and passion" that will guide future designs, he said.
It blends lifestyle with the value of the brand itself to give customers the happiness of living in Scandinavia where Volvo was born, according to Ning.
The Scandinavian elements combine modernity and tradition, both based in the human touch and care, said designers.
Its link with nature is illustrated by dynamic passion in the car body and more green technologies in both traditionally powered and hybrid cars.
It also brings creative and innovative ideas from designs in art, fashion and music. Those inspirations are used to build a luxurious yet low-profile brand, said designers. "These ideas not only depict Volvo's exploration in future car designs, but also reflect a philosophy rooted in the society of Scandinavia that claims a healthy lifestyle with more responsibility to the family as well as more focus on quality instead of boastful exteriors," Ning said.
He said Chinese society is now undergoing a transformation, with more well-off people shedding their former complicated and ostentatious lives to pursue a peaceful, stable and low-carbon lifestyle.
At this year's Beijing Auto Show, the Volvo S60L plug-in hybrid made its global debut, representing the automaker's latest efforts to deliver its eco-friendly concepts.
Lars Danielson, the company's senior vice-president, said that the plug-in hybrid is "a much more feasible solution for the customers in the short term" because "there is much to be done in terms of infrastructure and range" for purely electric cars .
The battery pack of the model alone allows a maximum range of 50 km, which can satisfy 75 percent of Chinese consumers' daily demands, he said.
In the hybrid mode, the car consumes 2 liters of fuel per 100 km. In power mode, it offers around 500 Nm torque and accelerates to 100 km/h in 5.5 seconds. With the three options, the model makes "a perfect choice" for drivers seeking a balance between maximum driving pleasure and low environmental impact, said Danielson.
He said that about 10,000 Volvo S60 diesel plug-in hybrids were sold in Europe last year, the most in the region. The Netherlands is its largest market.