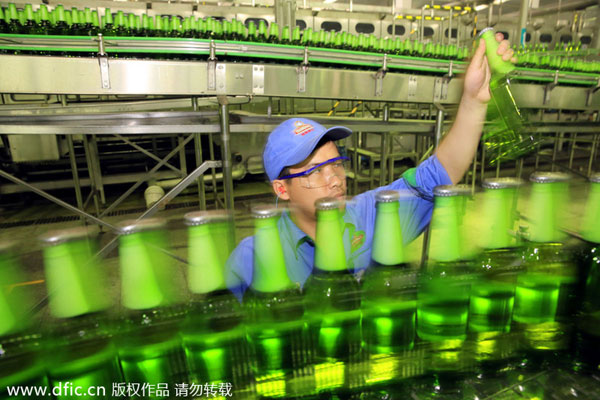 A staff member works at the production line of a beer factory in Jiujiang, Jiangxi province, May 19, 2014. [Photo/IC]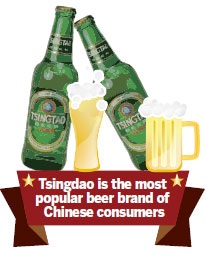 Beer consumption is set to soar at the upcoming FIFA World Cup after falling in recent years. And e-commerce sites are giving sales an added push as they entice customers with large discounts and home delivery.
In a run-up to the start of the soccer tournament being hosted by Brazil, 1.6 million cans of beer were snapped up on Tmall on June 4, the consumer website reported.
Sales jumped to 6.25 million yuan ($999,920), equivalent of 20 days' combined revenue of a large-scale supermarket in China, according to company data.
AB InBev, Snow Beer and Tsingtao, among other leading brewers, have embraced the Internet in hopes that fans will seek to scout World Cup essentials online.
Customers from Shanghai are the most avid beer buyers online, grabbing over 20,000 cans of beer a day since the beginning of June, Taobao data showed.
The biggest single purchase came from a buyer in Guangdong province, who spent over 15,592 yuan to quench his thirst for the beverage.
Brewers are building up reserves to avoid selling out. Tsingtao remains the most popular domestic beer, while German brewer Valentins tops the list for foreign brands.
To ensure customers get the freshest product, Tmall provides same-day delivery service in 42 cities.
It would seem that China's beer culture, which developed during the 2012 European Cup, is set to get even bigger, predicted soccer fan Zhang Jingfei.
Zhang said his enthusiasm for the beverage stems from an affection for the drink and a desire to find discounted goods online.
The World Cup is a springboard for beer to post its best results in a decade, according to a study by Euromonitor International.