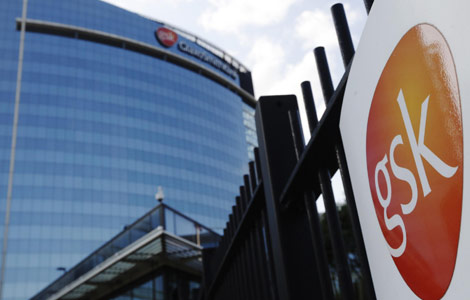 The GlaxoSmithKline building is pictured in Hounslow, west London June 18, 2013. [Photo/Agencies]
SHANGHAI - Prosecutors in Shanghai have indicted a foreign couple for illegally obtaining private information of Chinese citizens, prosecutor sources said on Sunday.
The couple, Peter William Humphrey, a 58-year-old British national, and his wife Yu Ying Zeng, a 61-year old American, were arrested in last August. They were hired by GlaxoSmithKline (GSK) China's Mark Reilly as private eyes in 2013.
It is the first indictment Chinese prosecutors have announced on foreigners for illegal investigation.
Prosecutors have found that the couple illegally trafficked a huge amount of personal information on Chinese citizens to seek profits via a company called ChinaWhys Co Ltd, which was registered in 2004 in Shanghai.
The personal information traded by the couple included household registration details, background of family members, real estate, vehicles, call log and exit-entry records.
Apart from buying information illegally from others, the couple also obtained the information by means such as secret photography, infiltration or tailing after someone.
Based on the information, the couple compiled so-called "reports" and sold them at high prices to their clients, most of which are China-based multinational corporations, including GSK China.
Humphrey told reporters that in April 2013 he was contacted by Mark Reilly, then GSK China's general manager and Zhao Hongyan, its legal department director and was prepaid 100,000 yuan ($16,143). Reilly asked him to find the informant who disclosed GSK China's bribery scandals to Chinese authorities and GSK's executives.
Humphrey said he only learnt about the details of the tip-off when he finished a two-month investigation on the informant. Before that, Reilly told him that "the informant was making a groundless accusation."
Humphrey said that after the investigation, he found the bribery claim was valid based on his work experience of about a dozen years. He felt he was "betrayed and used" and GSK China's suspicions about the informant was "unfounded."
Humphrey also admitted to having used illegal means to do his investigation, including buying others' information and tailing after them.
Xinhua learnt that the couple's rights in custody were well protected and they have seen their attorneys several times. Local courts will hold hearing about the case soon.