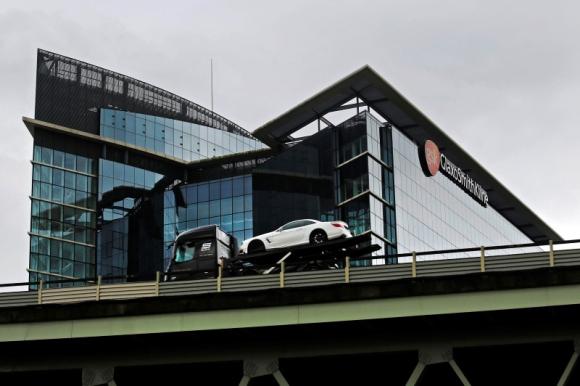 A car transporter drives past the office of pharmaceutical giant GlaxoSmithKline (GSK) in London April 22, 2014. [Photo/Agencies]
GlaxoSmithKline on Sunday confirmed the existence an intimate video recording of its former China head Mark Reilly, which the Sunday Times reported kicked off a bribery investigation that has damaged the drugmaker's business in China.
The Sunday Times said the recording was shot without Reilly's knowledge or consent at his Shanghai flat and showed Reilly, who is separated from his wife, with his Chinese girlfriend. It was not clear who shot the video or with what motivation.
A GSK spokesman confirmed the tape existed but did not comment on how it related to the alleged bribery scandal in which Chinese police have accused Britain's biggest drugmaker of transferring as much as 3 billion yuan ($482 million) through travel agencies to bribe doctors and officials.
Reuters was not independently able to verify the link between the tape and the bribery case.
Reilly, who last month was charged with corruption, was not available for comment.
GSK, which described the bribery allegations as "shameful" when they came to light last year, said on Sunday that it was continuing to cooperate fully with the Chinese authorities on the ongoing investigation.