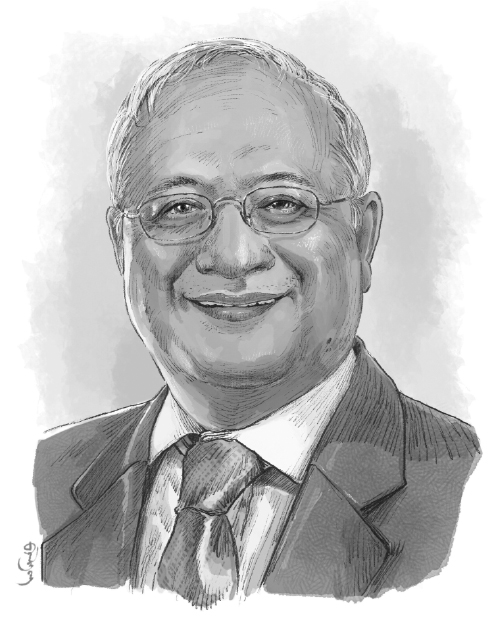 [Cai Meng/China Daily]
Veteran Sinophile Girija Pande believes the capacity of China and India to work together will be key to future of Asia's economic growth
If you are Chinese and happen to meet Girija Pande at his office, the veteran Sinophile from India who has spent decades doing business in China is sure to greet you with a warm "ni hao". And while you are in his company, he will comfortably chat with you in Mandarin.
"Ever since the mid-1980s, when I landed in China with a new job based in Hong Kong, I have witnessed the economic miracle of China unfold," he says. "For the past 12 years I have also been a part of (this) economic growth story."
Pande says that, in his lifetime, he has witnessed China lifting more than 300 million of its people out of poverty-a feat the world has never before seen-so he can't help but marvel at the nation's economic achievements.
"I realized the importance of building a business in China and decided I had to learn their language if I (was going) to be successful," he says.
While admitting he is no master of Mandarin, he says his knowledge of the language has helped him build bridges and understand cultural nuances. "And I found that very useful in dealing with our customers and partners."
Having spent over a decade establishing the Chinese operations for the information technology consultancy business of Indian conglomerate the Tata Group, Pande is now executive chairman of Apex Avalon Consulting, a Singapore-based joint venture between Apex Advisors of Singapore and India's largest management consulting firm, Avalon Consulting.
He is a strong advocate for crafting a roadmap for Indian and Chinese investors to enter or expand in the other's country.
He believes that the future of Asia, and the realization of the Asian century, lies in the growth of India and China and the two countries' capacity to work together.
"In discussions about India and China, I find that many commentators are too focused on the present and do not look beyond the horizon," he says. "But when you look beyond the present, you will find that these are two economic giants in Asia-one a $9 trillion economy growing at 5 to 6 percent in the long term and the other a $2 trillion (economy) growing at about 7 to 8 percent."
Assuming that each maintains a long-term growth rate of 6 percent, he says, these two economies are going to add trillions of dollars of GNP to the world in around 12 years, the time that each will take to double the size of their economies.
"Therefore, to complement each other, they have to grow the economic pie ... they have to grow for each other and together," he says. "And if these two countries are closely aligned in trade, they can generate out-of-proportion returns for each other. And that is what I see beyond the horizon."