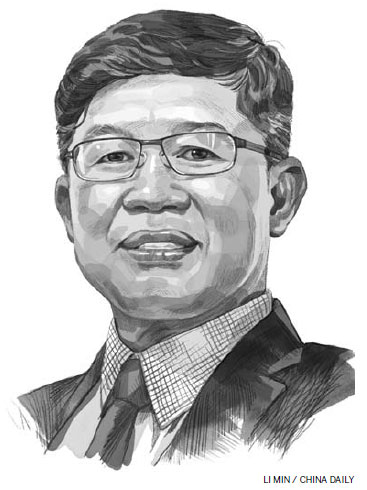 Malaysian software billionaire says golf has helped sharpen his skills
Malaysian software entrepreneur Goh Peng Ooi never attended a top school, and is proud of it.
"In a way I escaped all the torture," he says. "I was lucky in the sense that I wasn't under the influence of anyone."
Dubbed the first software billionaire in Southeast Asia, Goh, 60, is the founder of Kuala Lumpur-based Silverlake Axis, a homegrown software solutions company where he holds a 74 percent stake. His clients include 40 percent of the 20 largest banks in Southeast Asia.
Forbes estimates Goh's net worth at $1.6 billion as of September. He is ranked No 17 on the list of Malaysia's richest this year.
His company's scope of services is not limited to building ATMs and Internet banking systems. It also offers mobile payment services to retailers and airlines. Its fingerprint reader enables customers to make transactions on smartphones without the hassle of passwords.
An IBM staffer before making it big in the software industry, Goh shows up punctually at a meeting - cutting a neat figure, his salt-and-pepper hair contrasting sharply with his dark suit and red tie printed with yellow parallelograms.
The meeting is infused with allusions that Goh uses to season the conversation, from physics jargon to odd mathematical theories - topics one wishes one could discreetly Google to fact-check.
"I am a very academic person who happens to be a businessman," he tells China Daily from behind his rounded rectangular frames.
Born and raised in an average Malaysian family, Goh recalls himself being an inquisitive teen and a wild dreamer who was not easily persuaded. He had a hard time at school where rote learning was the norm.
Yet he enjoyed self-learning. He claims top scientists and thinkers including Isaac Newton, Albert Einstein, Aristotle and Immanuel Kant were his "mentors".
"Don't you know you can learn from their work?" he says.
"I like to think (about) what Newton said that is different from mine; what Einstein did that I don't agree with," he says.
In an interview intended only as a brief chat between meetings, Goh holds forth for the next one and a half hours on the philosophy underlying his career - exceptions.
"The information technology business is very much about exceptions rather than norms," he says. "It is not about what you know or what you've been taught. Google is not a norm. It is a bit of a company out of the blue.
"Exceptions are opportunities. All innovations, inventions, discoveries, multi-billion enterprises are, or were, exceptions."