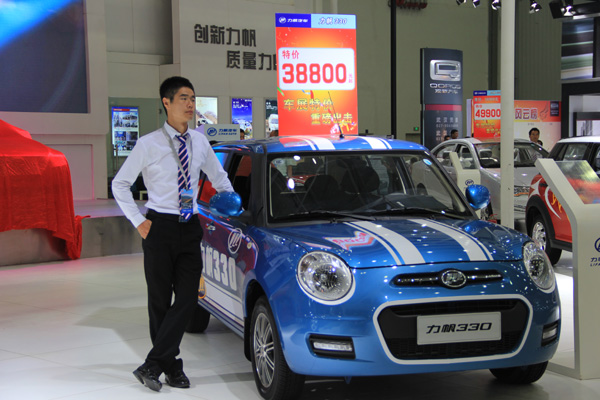 A Lifan 330 on display at the Wuhan auto show at a price of 38,800 yuan. Dealers offered deep discounts at the event. [Provided to China Daily]
Now Central China's turn as surging region for auto sales
With the auto market increasingly saturated in coastal regions, Central China is rising as a major battlefield for carmakers, said experts.
"Central China has huge market potential. Auto sales in the region have been growing faster than the country's average, especially in the luxury vehicle segment," Xu Changming, director of information resources development at the State Information Center, said in a report on auto sales in the region.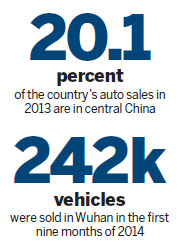 The Central China region, including Shanxi, Henan, Hubei, Anhui, Hunan and Jiangxi provinces, accounted for 20.1 percent of the country's auto sales in 2013, up from 13.9 percent in 2006, according to the report.
"It is an inevitable trend that labor-intensive industries like auto production are moving from east to west. Auto sales in Central and western China combined will account for at least 55 percent of the country's total by 2020," said Xu.
One of the largest auto markets in the region is Wuhan, capital of Hubei province. Statistics from the city's tax bureau show that more than 242,000 vehicles were sold in the first nine months of the year, a 41.63 percent surge from the same period last year.
The bureau said on its website that 32,253 vehicles were sold in September, a nearly 50 percent rise year-on-year, the highest monthly sales figure since 2001. It estimates that more than 1.85 million vehicles are now on the road in the city.
Auto sales in Wuhan have grown more than 10 percent annually for five years, according to the local Hubei Daily newspaper.
Wuhan show
Probably the best place to see local enthusiasm for vehicles is at the annual Wuhan motor show.
The six-day event from Oct 16 to 21 attracted 425,000 visitors. More than 9,700 vehicles were sold at the show, 1,200 units more than last year, according to its organizing committee.
Different from the Beijing or Shanghai auto show, most exhibitors were local dealers offering deep discounts.
A Qoros salesman surnamed Cao said customers who paid a deposit would have a discount of 5,000 yuan ($817), while staff at the Mini booth said some models were as much as 90,000 yuan cheaper at the event than in dealerships.
Vehicle ownership was made even easier with many finance companies ready to offer loans.
A sales representative surnamed Qin at Yafor Finance told China Daily his company helped about 200 people become car owners at last year's show and expected the figure to reach 350 this year.