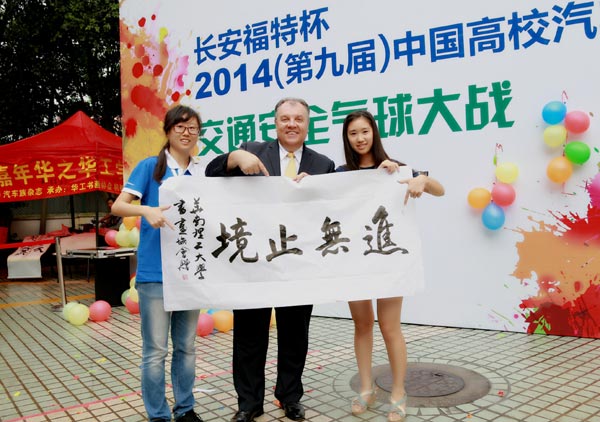 Marin Burela (center), president and CEO of Changan Ford Automobile Co, receives calligraphy that says 'going further' from student representatives at South China University of Technology, a host of their debate series. [Photo/China Daily]
"We believe in the youth of China. We believe it's our responsibility as a company to provide opportunities for young people to aspire to reach their dreams," said Marin Burela, president and CEO of Changan Ford Automobile Co, during a campus event in Guangzhou on Sept 13.
Enjoying a robust year in sales - a rise of more than 32 percent in the first seven months from the same period in 2013, the Chongqing-based joint venture has been working on its corporate social responsibility to bring a more inspiring brand image to Chinese customers.
Changan Ford has supported the Chinese College Auto Union campaign for seven years. This year, the campaign features a student debate competition along with the auto company's safe driving program called Ford Driving Skills for Life.
With "going further" a core value, the auto company aims to encourage new thoughts among the young people, said Burela.
"The college debate has become a platform to encourage them to be innovative and look for new ideas," he noted.
The debate this year attracted students from more than 20 colleges in six regions across China and will tour Beijing, Shanghai, Wuhan, Jilin and Chongqing after the stop in Guangzhou.
The Ford Driving Skills for Life program was introduced to China in 2009.
In the past five years, the program has trained some 18,000 people.
The program first started with the general public and later turned to college students.
Burela said that the education process should start even earlier.
"It should start in middle school, before young people start to drive, so they can understand the technology and have safety awareness," Burela said.
In addition to the campus campaign, Changan Ford has also been involved in a range of community services across the country.
Burela noted that there will be a fundraising event in Chongqing next month for children born with a cleft lip and pallet.
The ongoing School To Work program recruits young people from middle school and then put them into a technical college to offer them training to become auto technicians.
Burela said it is both a social service and useful help to young workers.
"Our company supports people from the start right through their journey in life. That is our branding and culture."
The auto company is also expanding its dealer network, mainly to the western China as well as "third, fourth and fifth-tier cities", according to Burela.
"The objective is to open over 800 dealer outlets in China by the end of 2014."
He said a new plant in Chongqing will start operation by the end of this year and another will open in Hangzhou in 2015.