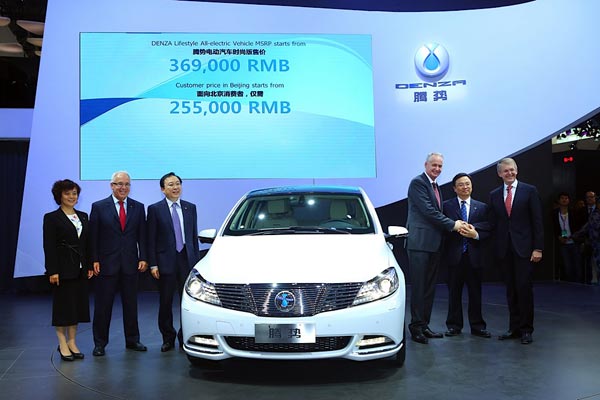 The Denza electric car made its debut at the Beijing Auto Show in April, the result of collaboration between Chinese auto and battery maker BYD and German's auto giant Daimler. [Photo/China Daily]
In addition to technical breakthroughs, innovation in the business model can play a major role in developing the new-energy vehicle industry in China, according to a senior partner at PricewaterhouseCooper China.
"While automakers are making tremendous efforts to develop their technological expertise to remove adoption barriers, a growing level of collaboration efforts are expected between automakers, suppliers and other innovative companies to maximize their collective knowledge and resources," said PwC China Auto lead partner Wilson Liu, citing the examples of BMW's electric car rental program as well as new technologies like wireless vehicle charging.
Liu said he expects to see automakers revise their traditional approach and make further collaborative efforts to define industry standards as problems with air pollution and energy consumption push both government and industry leaders to move faster and further.
He made the remarks at a summit a day before the Formula E race in Beijing on Sept 13.
Formula E is the world's first ever fully electric race series using open-wheel cars capable of speeds in excess of 150 mph. The new championship is designed to appeal to a new generation of motor sport fans while helping promote the electric vehicle industry and showcase technology, said organizers.
"Formula E racing in Beijing will be an unforgettable experience that will launch a new era in motor sports and change public perceptions of electric vehicles," said Alejandro Agag, CEO of the FIA Formula E championship.
He said the event is an example of a new approach to help promote public acceptance of new-energy vehicles.
Agag's words were echoed by Jarno Trulli, owner and driver for the Trulli team at the race, who said he believes the event allows more people, especially the young, to have a better understanding of electric vehicles.
Though many countries worldwide are making efforts to promote new-energy vehicles, PwC said China is believed to have the ability to adopt them faster as the Chinese government has been very supportive of the industry.
It has released a series of favorable policies this year to stimulate the development of new-energy vehicles.
Among other benefits, such vehicles are now exempt from sales tax.
China sold 17,600 new-energy vehicles in 2013, 0.4 percent of total vehicles sold in the year. PwC predicts the figure will quadruple to 1.6 percent by 2020.
According to PwC's Autofacts, the market share for alternative-fuel vehicles is forecast to reach 5.37 percent globally by 2020 when 5.87 million units will be produced, up from 2.52 million in 2013.
The company also said the production of hybrids in China will outnumber pure electric vehicles in 2015 as hybrids have proven to be the best option available in the current market.
"Batteries, power electronics and the e-motor are the main areas of (research) focus, and all have a high potential for technology and cost improvements," said Rick Hanna, PwC's global automotive sector leader.
"However, the race for best future technology has not been won. No one technology is expected to dominate the industry and that is one of the reasons why automakers should put more of a focus on business model innovation."