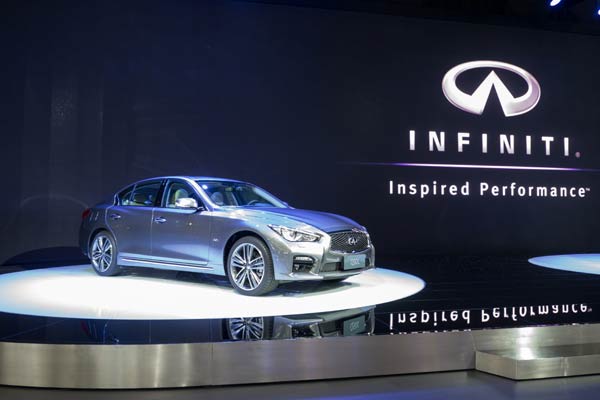 The first localized Q50L will roll out from the Dongfeng production line in Xiangyang, Hubei province in November. CHINA DAILY
Japanese automaker Nissan Motor Co said on Monday that it has set up a joint venture with Dongfeng Auto Motor Corp to manufacture and market its luxury brand Infiniti in China.
Dongfeng Infiniti Motor Co Ltd, a 50-50 joint venture between Dongfeng Motor Corp and Nissan Motor Co Ltd, with also be fully prepared to take advantage of the localization drive in China, company officials said.
The new venture will independently operate the Infiniti brand, both imported and locally produced models under the principles of "One Strategy, One Brand, One Team, One Channel" to achieve corporate growth, said Daniel Kirchert, managing director of Infiniti China, who was appointed president of Dongfeng Infiniti.
Kirchert will lead the new company along with Executive Vice-President Lei Xin, former deputy general manager of Strategic Planning Department at Dongfeng Motor.
The first board of directors also included Xu Ping, chairman of Dongfeng Motor Corp and incoming president Roland Krueger of Infiniti Motor Co Ltd.
In November, the first localized Infiniti model Q50L will roll out of the production lines at sister company Dongfeng Nissan Passenger Vehicle Co's plant in Xiangyang, Hubei province.
By next year, the second model, the long wheel-based SUV Infiniti QX50 will also start production in Xiangyang, Infiniti's third manufacturing base in the world.
According to Kirchert, during the next three to five years, the locally produced lineup will be expanded by 60 percent, with all models tailored for requirements of Chinese customers.
"We hope to have annual sales of 100,000 units in China by 2018, with 50 percent of it coming from locally produced models. The new joint venture and localization kick-off will boost our confidence," he said.
Xu Ping, chairman of Dongfeng Motor Corp said Dongfeng Infiniti is an important step in extending Dongfeng Motor Corp's value chain into the luxury segment. With Q50L, Infiniti will help Dongfeng for the first time tap into China's booming and promising luxury vehicle segment, he said.
On top of the 54 percent sales growth in 2013, Infiniti sold 18,279 cars in the first eight months of this year, a 102 percent growth over the same period of last year.
Jia Xinguang, an independent auto analyst based in Beijing said localization is necessary and essential for foreign automakers, especially for those who want a higher market share in China's luxury vehicle segment.
"If companies miss the localization bus, they will fall behind in the efforts to succeed in China's highly competitive and lucrative domestic market," he said.
Premium vehicle producer Jaguar Land Rover, owned by India's Tata Motors, earlier this year joined hands with Chinese firm Chery Automobile for a joint venture with an investment of 10.9 billion yuan.
Based in Changshu, Jiangsu province, the new factory is expected to start operations in the fourth quarter, and produce 130,000 Jaguar, Land Rover vehicles as well as own-branded vehicles and 130,000 engines a year in the future.
However, another auto analyst Zhong Shi said that "even with localization, it would be difficult for Infiniti, a young and small brand, to dislodge BMW, Mercedes-Benz and Audi in China's luxury vehicle sector, in the short term".
Global consulting firm PricewaterhouseCoopers has estimated that luxury car sales in China will surpass that in the United States by 2016, and clock annual sales of more than 3 million units by 2020.