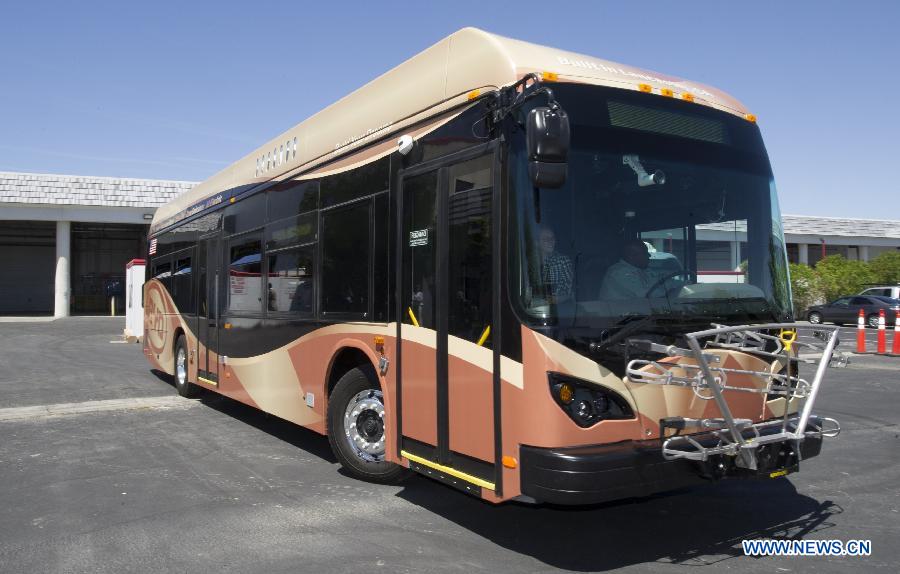 BYD shows the first American-made electric bus built at it's factory in Lancaster, California, the United States, April 28, 2014. BYD unveiled its first American-made long-range zero-emission electric bus during a ceremony held in Lancaster on Monday. [Photo/Xinhua]
LANCASTER, the United States - Chinese automaker BYD unveiled its first all-electric bus made entirely in California here Monday.
California Governor Jerry Brown was on hand as the long-range, 40-foot (12.2-meter) battery-powered bus was unveiled in Lancaster at BYD's first electric bus manufacturing plant in the United States.
"It's a small beginning. A few buses. But like many things, it holds promise as something very big and very important," Brown told a crowd of more than 150 people.
"I hope to come back in a few years, when hundreds or maybe thousands of buses are rolling off the line," he said.
The zero emission, environmentally friendly bus, which can hold a charge for 24 hours and run for 155 miles (249 km) before recharging, was delivered to the Antelope Valley Transit Authority in northern Los Angles County.
The world's largest producer of electric buses also has a deal to provide up to 25 electric buses for Los Angeles County Metropolitan Transportation Authority.
The company has three buses, which were made in China, operating on the Stanford University campus.
Currently employing more than 60 American workers, BYD expects to increase the number to 100 by the end of 2014 and add 200 more by the end of next year.
BYD Motors, a division of BYD Co Ltd based in China's Shenzhen, opened a bus assembly plant and a battery pack assembly facility in Lancaster about a year ago.
It established its North American headquarters in Los Angeles in 2011.
BYD plans to sell new shares in HK: report
BYD 'green' cars get go-ahead for Beijing, Shanghai roads