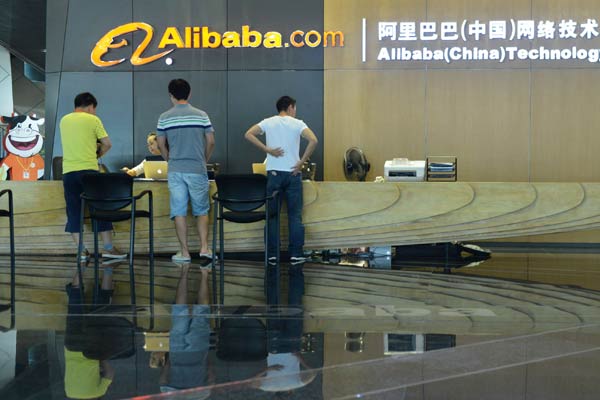 The reception area at the office section of Hangzhou-based Alibaba Group Holding Ltd. The challenge in being overly reliant on platforms like Alibaba is that it is a one-direction sales channel, which makes it impossible to interact with customers, experts said.LONG WEI/CHINA DAILY
A leading omni-channel commerce expert has made a bold statement to global retailers: do not rely too much on platforms run by Alibaba Group Holdings Ltd as the sole "face" of their business in the region.
Burghardt Groeber, vice-president of greater China for enterprise software provider hybris AG, an SAP company, said that one of the biggest failings of international brands in the Chinese market is losing control of their customer relationships and brands by surrendering too much power to Alibaba, which went public in New York last Friday.
He argued that although it is vital for companies to use Alibaba's online platforms, such as Tmall, to reach hundreds of millions of online shoppers and drive sales in China, it is not an alternative to an owned, multi-channel digital strategy.
"The challenge in being overly reliant on platforms like Alibaba is that it is a one-direction sales channel, which makes it impossible to really interact with customers. However, for the success of future business and to build a new business model that truly works, it is key to develop customers based on interaction and communication," he said.
His company, based in Swiss, has seen a large number of Western brands and retailers come to China to tap the market, lured by the growing size of the nation's middle class. "I will always advise them to be on Tmall. It is the place to be if you want to get visibility and want hundreds of millions of people to be aware of your brands.
"But the overall goal is to add different channels, including your own online stores and mobile channels as complements," he said. It is not sufficient to consider e-commerce as a pure sales channel.
According to Groeber, who has more than a decade of experience in IT solution sales, in this increasingly digital world, businesses need to know which promotion works, what kind of products need to be promoted on Tmall and what kind of products need to be promoted on mobile channels and in physical stores.
It is important for enterprises to understand what happens in the end market and have the ability to move products and shift promotions around different channels based on market analysis and data.
He said that offline stores will always be around, because the desire to feel and touch things and have a "sensory experience" is still crucial in the overall purchasing circle, especially when it comes to luxury goods.
"There will be more applications to drive online and offline collaboration. So for future success, it is key to create a strategy that leverages all the advantages of different channels based on their specific characteristics," he said.
"It is about how to truly differentiate yourself. It is not about how to sell but also about how to present your products, how to really create unique brand awareness through all these different channels. All these channels need to be synchronized and consistent," he said.
Why is not this integrated digital strategy happening everywhere?
"Digital illiteracy", said Groeber.
"It is important for companies to start to hire chief technology officers and marketing people who may not have any brick-and-mortar experience and come completely from the digital world, so that they can drive fresh digital strategies inside their organizations," he said.
With China's e-commerce dominated by giant Internet companies, it is unfortunately difficult for Chinese offline retailers to overcome this "digital illiteracy".