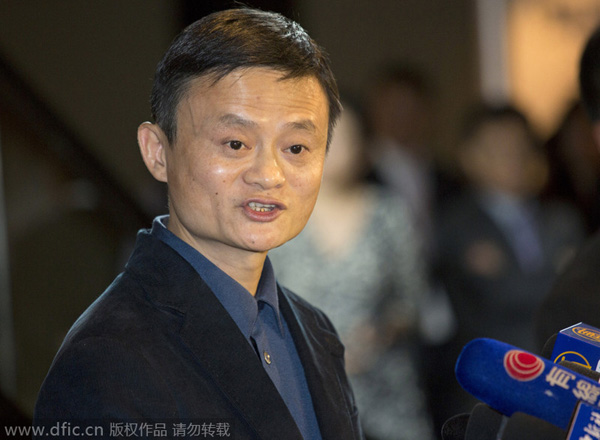 Alibaba Group founder and Executive Chairman Jack Ma speaks to reporters before an IPO road show at a hotel in Hong Kong Monday, Sept 15, 2014. [Photo/IC]
"I speak from my heart. I love Hong Kong," said Jack Ma, founder of Alibaba, to the media after his meeting with investors on Sept 15, despite the fact that the Chinese Internet behemoth would join its peers at US exchanges.
Alibaba opened trading at New York exchange on Friday after its $21.8 billion initial public offering, with share price jumping 38 percent to $93.89.
The volume of Chinese tech-company IPOs in the US has hit $25.1 billion for the year to date, according to Dealogic. In comparison, six Chinese tech-companies have gone public in Hong Kong so far this year, raising a total of $870 million.
Concerns rose on Hong Kong's competitiveness as a major IPO hub for Chinese companies, as more and more Internet firms went overseas for listing, say experts, but there are pros and cons.
"The popularity of the US market among those firms is inseparable from its investor base," said Mervyn Chow, head of global capital markets, Asia Pacific of Credit Suisse, in an early interview, adding that for each dedicated verticals under the Internet sector, there are dedicated institutional investors in the US specializing in those spaces.
Trading volume for Internet stocks in the US is significantly higher, he said.
What's more, valuation is the key. "American investors are more experienced in looking at this space and thus more willing to pay a premium when investing in early stage innovative companies or companies in large targeted markets," said the banker to China Daily online.
Credit Suisse has underwritten several Chinese Internet-related IPOs in the US, including Alibaba, makeup e-commerce Jumei, tour-booking website Tuniu, security software maker Cheetah Mobile Weibo, online real estate agent Leju and online jobs site Zhaopin.
"Winner-takes-all in the Internet industry. Leading players in e-commerce and mobile ends are well liked in the US capital market," said Chow.
"Listing in the US is good to promoting Alibaba's international image," said Tang Jia, a researcher at Analysys International, to China Daily online.
"The US is perhaps five or six years ahead of China in terms of the development of Internet industry. Founders of Chinese Internet companies would hope to list in the same market as those who pioneered the sector in the US. It could be a milestone for them and their employees," said Chow.
But Ramakrishna Velamuri, professor of entrepreneurship at China Europe International Business School, told China Daily online that Hong Kong will retain its attractiveness.
"Hong Kong investors have better understanding of Chinese firms," he said, adding that Hong Kong-listed Chinese stocks have a more stable long-term performance in general, as negative news about one US-listed Chinese firm could bring negative impression on others and affect their share price.
"US-listed Chinese stocks suffered losses in their market valuation in 2011, in part because of what happened between Alibaba and Yahoo regarding the Alipay," Velamuri said.
Chinese listings in the US fell to a five-year low in 2012, as a consequence of several fraud scandals involving Chinese firms a year earlier. Offerings didn't pick up until late 2013.
Commission fees could be another reason to weigh between the two. Commission rate for a medium-sized tech IPO in the US could be around 7 percent, whereas bigger companies such as Alibaba and Facebook have more bargaining power and can bring down the rate to 1 to 2 percent, according to sources.