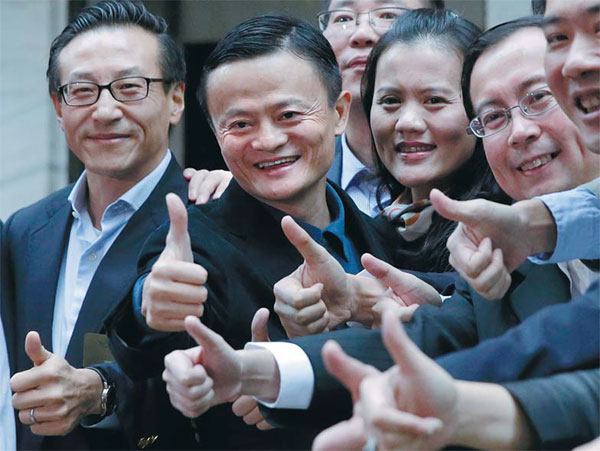 Alibaba Group founder Jack Ma (second left) celebrates with his team as he arrives at the New York Stock Exchange on Friday. Brendan McDermid / Reuters

Share price set at $68 - top of the expected range - for launch in NY
Chinese e-commerce conglomerate Alibaba Group priced its record-breaking initial public offering on the New York Stock Exchange on Friday at $68 per share, the top end of the expected price range.
The IPO could raise up to $25 billion for the company based in Hangzhou, Zhejiang province. The $68 price was set after the offering's popularity with investors surged during its road show in the past two weeks.
"Today is going to be a landmark day," said Jack Ma, Alibaba's founder and chairman, in a speech to the group's employees ahead of the IPO.
"We could never achieve what we have achieved without being in the Internet sector. We are very grateful to be in China in this era and working with small and medium-sized enterprises."
The IPO will give Alibaba a market valuation of $167.6 billion, bigger than that of its Western e-commerce rivals such as Amazon and eBay. On Friday, the shares traded under the ticker "BABA".
Alibaba said it is offering 320.1 million shares for a total offering of $21.77 billion. Underwriters have a 30-day option to buy up to about 48 million more shares. That means the offering could be as much as $25 billion, making it the biggest IPO ever.
Alibaba, founded by Ma and 17 other partners with 500,000 yuan ($81,450) in 1999, has grown into the world's largest e-commerce company.
With a business model that is considered a mixture of those of Amazon and eBay, it controls 80 percent of China's online retail sales. In 2013 alone, the company handled $250 billion worth of merchandise, more than Amazon and eBay combined.
Analysts said Alibaba's dominance in China's online shopping market, its profitability and its sustainable growth in revenue, profit and registered users have attracted investors and created some market hype.
"I fear that many investors will buy the stock as soon as they can, without actually knowing what Alibaba does, which will likely cause volatility in the future," said Neil Flynn, head equity analyst at chineseinvestors.com in Shanghai, a leading financial analysis firm of US-listed Chinese companies.
Flynn, who has followed Alibaba for years, said he would prefer to see the stock price rise consistently in the long run, because Alibaba is a "great company with a great outlook".
There is abundant growth potential in China's online shopping market, as online retail accounts for less than 10 percent of the retail market nationwide.
With the large amount that Alibaba raises from the IPO, it is expected to consolidate its leading position in China's e-commerce market.
Burghardt Groeber, vice-president for Greater China at Hybris Software, which helps deliver better sales performance online and offline, said, "The IPO is also a stepping stone for Alibaba when it comes to internationalization."
However, Groeber said the buying impulses of Chinese and Western online shoppers are vastly different and it will be difficult for Alibaba to compete in Western markets with mature local companies.
"It may start to serve expatriate Chinese with local products. Outside China, there are about 1 billion people who speak Chinese and there are some extended Chinese cultural communities that need to be served," he said.
Flynn added, "Alibaba was not well known in the West, but is now internationally recognized as a tech giant. The exposure and the money it makes from the IPO will make Alibaba a direct rival to the likes of Google and Facebook."