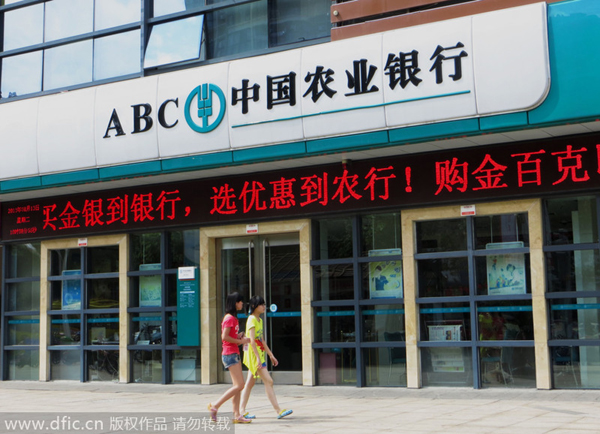 Pedestrians walk past a branch of Agricultural Bank of China in Yichang city, Central China's Hubei province, August 13, 2013. [Photo/IC]
DUBAI - China's third biggest bank in relation to assets Agricultural Bank of China (ABC) launched here on Sunday the listing of 1 billion yuan ($163 million) Emirates bond on the NASDAQ Dubai, marking the first Chinese fixed income bond at an Arab stock market.
The listing of the bond was celebrated when the opening bell rang at the NASDAQ Dubai at 10 am local time in the presence of China's General Consul in Dubai Tang Weibin, ABC Dubai Branch Senior Executive Officer Min Fang, Governor of the Dubai International Financial Center (DIFC) Essa Kazim, Chairman of NASDAQ Dubai Wahed Al-Fahim, NASDAQ Dubai Chief Executive Hamed Ali.
The 1 billion yuan three-year Emirates bond has a coupon rate of 3.5 percent. The bond is part of ABC's global mid-term bond plan, becoming the first Chinese institution issuing bonds in Middle East and North Africa (MENA).
Min Fang said the listing was an important step in ABC's strategy of global expansion. "We intend to further build the presence of the Chinese currency across MENA from our base in Dubai," said Min.
He praised NASDAQ Dubai as the ideal to promote visibility with investors. Traders told Xinhua that several local Emirate banks like National Bank of Abu Dhabi and Abu Dhabi Commercial Bank invested in the bond.
Kazim welcomed the ABC bond listing, saying the economic and financial ties between China and the Middle East expand rapidly, " Dubai is well placed to facilitate broadening and deepening of this important relationship."
NASDAQ Dubai, the only international stock exchange in MENA, is also the region's biggest platform for bond listings. The market is a licensed entity within Dubai's financial free zone DIFC, which celebrated its 10 years existence in fall.
ABC bank has been licensed in the DIFC since Feb 2013.